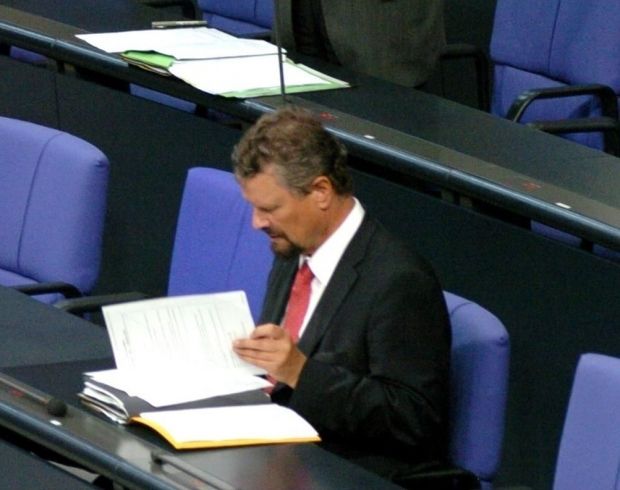 Photo from gernot-erler.de
The claim was made by Gernot Erler, Government Commissioner for German-Russian Relations, in an interview with the Polish newspaper Wyborcza, which was in turn quoted by Ukrainian newspaper Europeiska Pravda.
"The envoys of the Kremlin were [trying to] persuade us to collude in the Ukrainian issue, but they returned empty-handed," Erler said.
"Russia has been reiterating to us that we are the only ones to be relied on in the EU, and make constant offers for us to decide the Ukrainian issue together, Russia and Germany," a representative of the German ruling coalition said on condition of anonymity.
In summer, such proposals were voiced in Berlin by the head of Russia's presidential administration. Last week, same proposal was made to the Germans by a group of deputies of the State Duma that was visiting Germany's capital, headed by the head of the Foreign Affairs Committee Alexei Pushkov.
The German officials were surprised by openness and friendliness of Russians at such meetings, given their president's constant anti-Western rhetoric, the newspaper said. The Russians kept saying there was a need for dialogue and to search for compromise, it said.
"We emphasized to them that bilateral talks regarding Ukraine's future are impossible, and Germany will not undertake anything without consulting with other EU countries," one German official told the newspaper.
In addition, he expressed annoyance regarding Russian President Vladimir Putin's non-compliance with the ceasefire agreed on in Minsk.
"I did not expect that the Russians would be ready to ruin everything we have achieved. We have treated Russia as a partner. And it turned out, [this was] in vain," said Erler, who was considered just a year ago, as Wyborcza noted, as a person who understood and supported Russia.
Germany's Chancellor Angela Merkel, who has previously been quite restrained in her criticism of Putin, said that the violation of the sovereignty of Ukraine cannot remain without consequences and that the EU would resist Russia's attempts to prevent Eastern European States having closer relations with the EU.