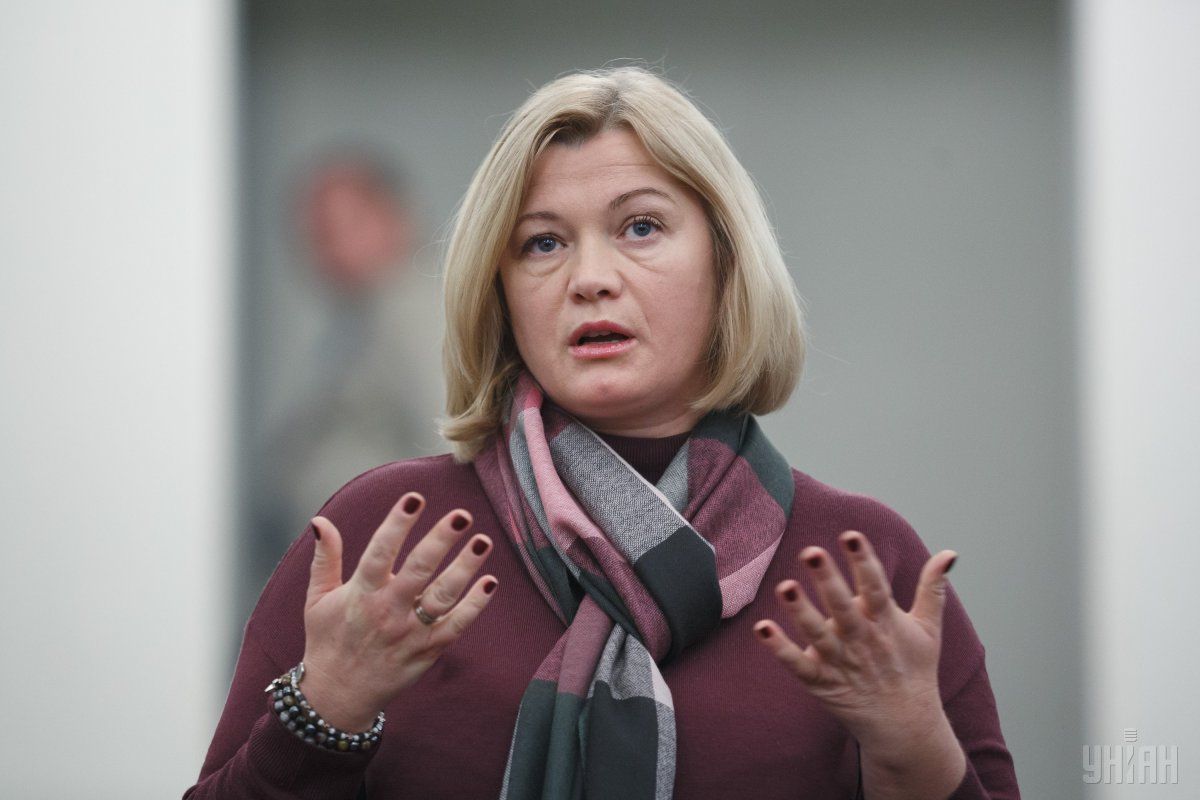 Photo from UNIAN
Ukraine's Representative in the humanitarian subgroup of the Tripartite Contact Group for the Donbas settlement, First Deputy Chair of the Verkhovna Rada Iryna Gerashchenko emphasizes that no referendums are going to held in the occupied Donbas.
"There will be no referendums held at gunpoint, with Russian tanks parked at schools and kindergartens of occupied Donetsk and Luhansk, no referendums organized in territories where Russian propaganda and Lifenews have been brainwashing the population for the past four years, intimidating them by "fascists and junta," no referendums organized by Kremlin puppets in Kremlin-occupied lands," Gerashchenko wrote on Facebook.
"Putin admitted that it was he and his military that had already organized a 'referendum' in Crimea, and our diplomats are obliged to use this recognition, this guilty plea when suing the Russian Federation for stealing Crimea, when voicing all our statements on tightening Russia sanctions," said Gerashchenko.
Read alsoPutin says he floated Ukraine referendum during meeting with Trump – media
At the same time she noted that the Minsk agreements hold no provisions of any referendums. "There are local, regional elections that must be held under Ukrainian law, under the aegis of international organizations, in particular, the OSCE Office for Democratic Institutions and Human Rights," Gerashchenko noted.
The official said the elections in Donbas could only be held following demilitarization of the region and disarmament of militants. Gerashchenko noted that they should not be held "at gunpoint" and "under the supervision of the FSB operatives and "little green men sporting someone else's insignia."
Also, Gerashchenko said that internally displaced persons from Donbas should be able to vote in the elections "because it is they rather than the Kremlin puppets who are the voice of Donbas."
Read alsoTrump looking forward to another meeting with Putin
"We stand firmly on the position that the Russian Federation must comply with the Minsk agreements: cease fire, halt supplies of equipment to militants, withdraw its troops with changed insignia," soldiers that 'got lost,' and their weapons; release hostages, and return to us control over our border," she said.
"Putin better go organize referendums in Russia, for example, on raising the retirement age. I wonder if he gets 80-90% support," emphasized Gerashchenko.
She also said that the Ukrainian side officially requested its U.S. partners to provide information on what kind of "new ideas on Ukraine," which Putin mentioned in his interview, had been discussed at the Helsinki summit, and whether they had been discussed, at all."
As UNIAN reported earlier citing Bloomberg, Russian President Vladimir Putin during a July 16 summit in Helsinki with U.S. President Donald Trump had floated the idea of holding a referendum on the status of the territories in the occupied Donbas.
Read alsoTrump did not back water on Ukraine – Poroshenko
In response, the U.S. president allegedly proposed not to disclose the proposal to the public to be able to think it over. It is reported that Putin proposed that the voting be held in the occupied territories regarding their status, with the participation of the international community.
On July 17, Putin announced that he had agreed with Trump to work at an expert level on the settlement of the Ukraine crisis. "We talked about Ukraine, there are some new ideas on how to resolve the crisis in the southeast of the country. We agreed to work on this issue at an expert level," Putin said.