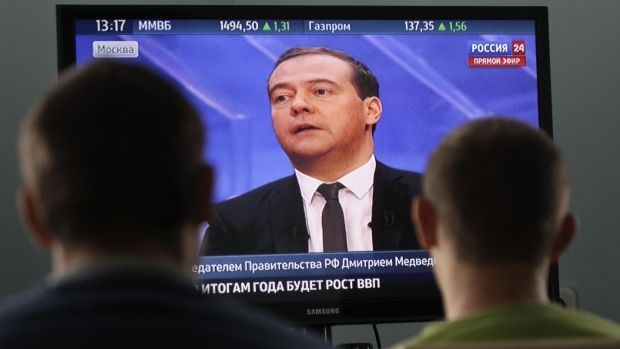 REUTERS
"No one has ever said or concluded that sanctions are the reason for better development, and that we do not pay attention to the impact of sanctions on our economy," Medvedev said.
"Nobody said this, except some frivolous commentators. Everyone understood that the sanctions that have been taken by foreign countries could harm our economy. But, at the same time, these sanctions harm the economies of those countries and the companies that have accepted these sanctions. These decisions have always a double-edged character."
At the same time, Medvedev tried to play down the negative impact of Western sanctions on Russia, and said that they had helped the Russian government to take a decision to start import substitution.
"We can make a number of quite serious conclusions in accordance with these unpleasant decisions for our country, including those who have been arisen for a long time. Which ones? It is very easy to make the economy [dependent] on imports and to bring absolutely everything from abroad. So, these sanctions have given us an opportunity to think that it is time for us to conduct proper import substitution.
"These sanctions have helped the Russian government to consider the creation of production in Russia, which will be able to create good, high-quality and competitive products," the Russian prime minister said.
"That is what we are doing now. That's not a positive point of sanctions, but it's a challenge for us and we must respond to it. The price of such decisions is measured in tens of billions of dollars."