Poroshenko and Abbott: MH17 shot down by Russian Buk-M missile
Ukrainian President Petro Poroshenko and Australian Prime Minister Tony Abbott have said that Malaysia Airlines Flight MH17, which crashed in July in Donetsk region, was shot down by a powerful Russian Buk-M anti-aircraft missile, the press service of the head of state reported on Friday on the official Web site of the president of Ukraine.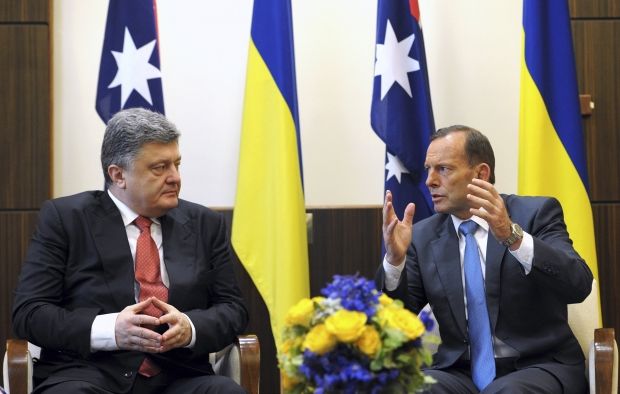 REUTERS
On December 11, in Melbourne, the two leaders met with the members of the Australian working group on investigation of the circumstances of the aircraft crash of Flight MH17.
"The preliminary results of the investigation have confirmed that the plane was shot down by the Russian anti-aircraft missile," Poroshenko said.
"The intelligence data suggest that the anti-aircraft missile was launched from a powerful Buk-M anti-aircraft missile system, which was brought from Russia to the Donbas together with its crew," Poroshenko said.
"Flight MH17 from Amsterdam to Kuala Lumpur crashed in the Donetsk region morning of July 17, 2014 was shot down by Russian-backed insurgents," Abbott said.
In addition, Prime Minister Tony Abbott thanked the Australian team for the prompt and efficient operation. He also noted that the Ukrainian government had provided assistance in the organization of work of the Australian experts.
"It is not a question of regional security of Ukraine, it is a matter of global security, as Russia's aggression demonstrates the inefficiency of the security system currently in place in the world, which is based on the UN Security Council," Poroshenko said, adding that a new global security system is needed.
Earlier, the Ukrainian president welcomed the adoption by the U.S. Senate of the Ukraine Freedom Support Act of 2014. He said the document was registered during his visit to Washington, and that he had held a series of meetings regarding the possibility of its adoption.
As UNIAN reported earlier, on Thursday the U.S. Senate (the Upper House of Congress) supported bill S.2828 entitled "Ukraine Freedom Support Act of 2014" regarding arms provision for Ukraine and granting it the status of ally without membership of the North Atlantic Treaty Organization (NATO).
According to the official site of the U.S. Democratic Party in the Senate, the bill grants the U.S. president the powers and possibility to provide Ukraine with military aid worth $350 million.
Additional financial assistance in other areas of support is also included in the bill.
Under the bill, the U.S. president is also required to impose new sanctions against Russian defense enterprises, as well as companies from around the world that are investing significant funds in the development of non-conventional energy projects for extraction of crude oil.
A similar bill, H.R.5782, was also supported by the House of Representatives (Lower House of Congress).
U.S. President Barack Obama must then decide whether to support the decision of Congress, or veto the bills.
If you see a spelling error on our site, select it and press Ctrl+Enter