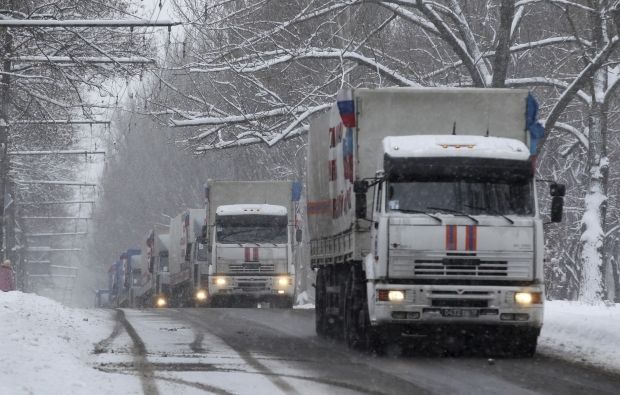 REUTERS
"The Russian side has unilaterally implemented the clearance of the ninth humanitarian aid convoy," a Ukrainian border service report reads.
"As the representatives of the International Committee of the Red Cross did not participate in the movement of a cargo, the Ukrainian consolidated unit didn't have supervisory functions, [and] that's why it carried out only a visual inspection of the crossing of the Ukrainian border by the Russian trucks," the report says.
Russian officials earlier said that Ukrainian border guards would be allowed to inspect the contents of the convoy. However, Ukrainian border officials say they were only allowed to carry out a visual inspection of the trucks' cargo.
"A visual inspection was carried out by two consolidated border and customs groups at the border crossing points for road transport Donetsk and Matveev Kurgan on the territory of the Russian Federation," the State Border Service said.
"Eighty-seven Russian trucks were cleared from 0710 to 0820 through the checkpoint Donetsk of the Russian Federation. Another 54 Russian trucks were cleared from 0700 to 0740 through the checkpoint Matveev Kurgan of the Russian Federation," according to the Ukrainian border guards' report.
As UNIAN reported earlier, the Russian Emergency Situations Ministry said on Friday that 130 Russian trucks with humanitarian aid had crossed the Ukrainian border. It claimed the column of trucks, bearing markings indicting they were carrying humanitarian aid, was carrying 1,200 tonnes of food, including sugar, canned goods and building materials.
Russian officials say that by the end of the year Russia will send another "Christmas" convoy to areas of Ukraine's Donbas that have been taken over by armed gangs.
The Ukrainian authorities claim that what Russia says are aid convoys are in fact being used by Moscow to resupply militants waging an insurrection against the government in Kyiv.
"All of these humanitarian convoys which Russia has sent to Ukraine without its permission are [being used] only to support armed men. The trucks have mainly imported ammunition, rations and weapons into the territories controlled by the terrorists," Ukraine's National Security and Defense Council (NSDC) said.
According to the NSDC, Russian trucks from the convoy have also been transporting military equipment from Ukrainian plants in the Donbas back to Russia. The Kamaz trucks have also been used to repatriate to Russia the bodies of Russian soldiers killed in fighting in Ukraine, recent reports from the Organization for Security and Cooperation in Europe indicate.