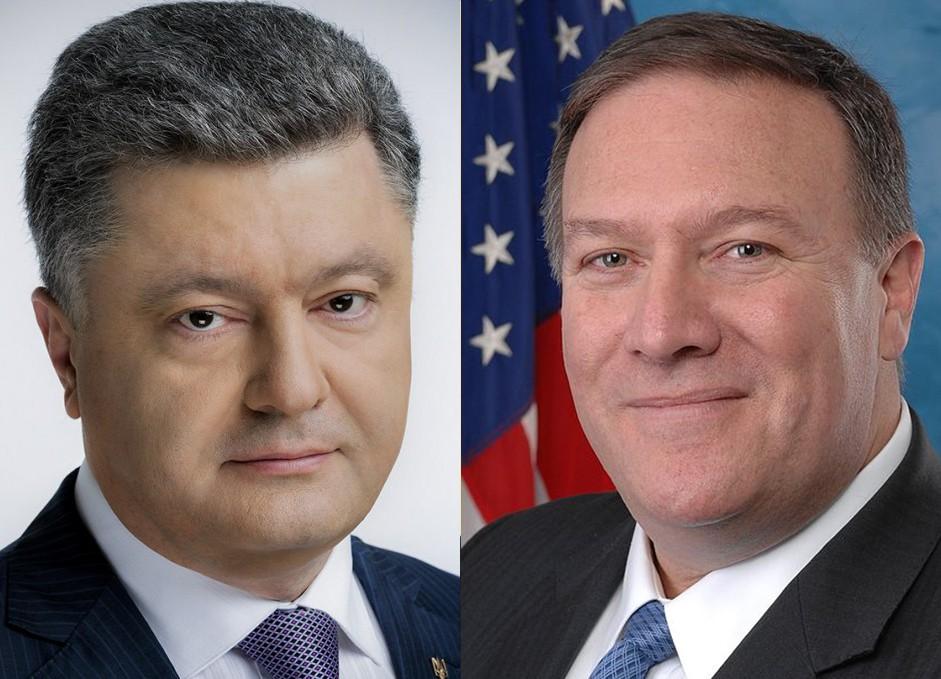 president.gov.ua
Ukrainian President Petro Poroshenko held a phone conversation with U.S. Secretary of State Mike Pompeo.
The parties commended approaches to further counteraction to Russian aggression and restoration of Ukraine's territorial integrity, taking into account recent contacts between the two heads of state, according to the presidential press service.
Poroshenko thanked Pompeo for the historic declaration of non-recognition of the attempt by the Russian aggressor to annex Ukrainian Crimea. In this regard, the parties stressed the priority of switching from the policy of non-recognition of the annexation to the policy of de-occupation of Crimea.
It was noted that U.S. approaches toward policy regarding Russia remained clear and unambiguous – as long as the Kremlin refuses to change its confrontational policy, the price of aggression for Russia will continue to grow.
Read alsoU.S. calls on Russia to end its occupation of Crimea
The parties emphasized that the policy of sanctions against Russia would be maintained until sovereignty and territorial integrity of Ukraine, including Crimea, are restored. Attempts by the Russian side to aggravate the situation will further see an adequate response and increase the cost of the ongoing aggression.
The interlocutors discussed the importance of coordinated efforts in promoting the deployment of UN peacekeepers throughout the occupied Donbas, including the return of control over the uncontrolled section of the Ukrainian-Russian border.
Significant attention was paid to the issue of the release of the Ukrainian hostages and political prisoners kept in Russia and in the occupied territories of Donbas and Crimea. "We must increase pressure on Russia to release all Ukrainian hostages as soon as possible, in particular Oleh Sentsov, who has been on a hunger strike for 86 days already," Poroshenko said.
Read alsoRussia looks into ways to impose "Crimea scenario" in other regions of Ukraine – expert
The president and the U.S. Secretary of State confirmed the resolute position of Kyiv and Washington on the existing security challenges resulting from the Nord Stream 2 project.
U.S. State Secretary Mike Pompeo congratulated President of Ukraine Petro Poroshenko on the successful beginning of the process of launching the Anti-Corruption Court.
The parties also discussed topical issues of strengthening the strategic partnership between Ukraine and the United States, in particular in the field of security and defense, as well as the support for the progress of our state on the path of reforms, including in the framework of development of cooperation with the IMF.