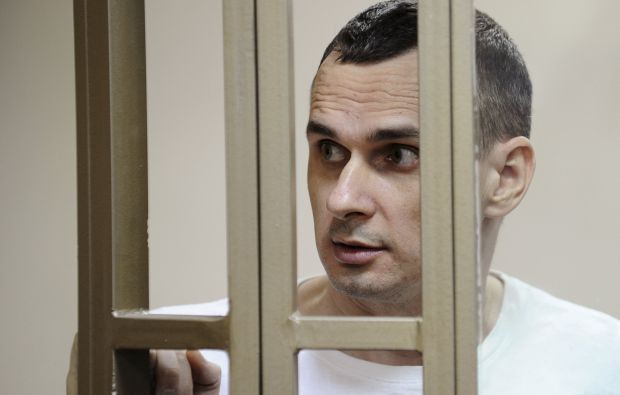 REUTERS
Verkhovna Rada Commissioner for Human Rights, Liudmyla Denisova, has asked Russian human rights commissioner Tatiana Moskalkova to transfer Ukrainian film director Oleh Sentsov, who has been on hunger strike in a Russian penal colony, to Moscow for treatment.
Denisova says an appeal of Sentsov's mother to the Russian president with a request to pardon her son has already been referred to a special commission, according to her Facebook post following talks with Moskalkova.
According to Ukraine's Ombudsperson, the two discussed Sentsov's swap for a Russian national Alexei Sedikov. However, the negotiations failed, as Moskalkova said Russia considers the Ukrainian director its own citizen, claiming the exchange is not on the table.
"However, the situation requires a quick response, as Oleh has refused from treatment in a hospital of [a distant Arctic] town of Labytnangi [in Yamalo-Nenets Autonomous Area]. But there are no specialists who can take him out of the starvation process. The withdrawal is much more dangerous than starving, and any error can become fatal. There are relevant specialists at a Moscow-based Institute of Professor Nikolayev and a Kyiv State Institute of Gerontology. Therefore, I asked Tatiana Moskalkova to arrange Oleh's transfer to the institute in Moscow, or to a hospital where experts on endogenous nutrition work. I told her that he would not survive a railway or road trip. So, an ambulance plane is needed to save his life," Denisova wrote.
Read alsoCrimea, Sentsov, peacekeepers: Poroshenko holds phone talks with Pompeo
The official added that she had asked Moskalkova to expedite consideration of pardon for Sentsov in view of his critical condition.
Later, Denisova reported that she had received a call from Moskalkova, during which the latter told about Sentsov's "stable condition" and his refusal to be transferred to a hospital in Labytnangi. "I'm quoting her as saying: 'We have a free country, so a person takes own decision which hospital to choose," Denisova added.
"However, I insisted that human rights commissioner in the Yamalo-Nenets Autonomous Area Anatoly Sak visit Oleh, take a picture of him and record their conversation on video, to assure us that Oleh's condition is actually stable. Now she [Moskalkova] is to organize this visit," the Ukrainian ombudsperson said.
Read alsoSentsov's cousin Kaplan on his condition: "Things are catastrophically bad"
As was earlier reported, Sentsov's health condition is now critical. His cousin Natalya Kaplan says her brother practically stays in bed, failing to get up, and refuses hospitalization.
Administration of Federal Penitentiary Service in the Yamalo-Nenets Autonomous Area claims that Russian doctors assess Sentsov's condition as satisfactory. The Ukrainian prisoner has been on hunger strike since May 14, 2018.