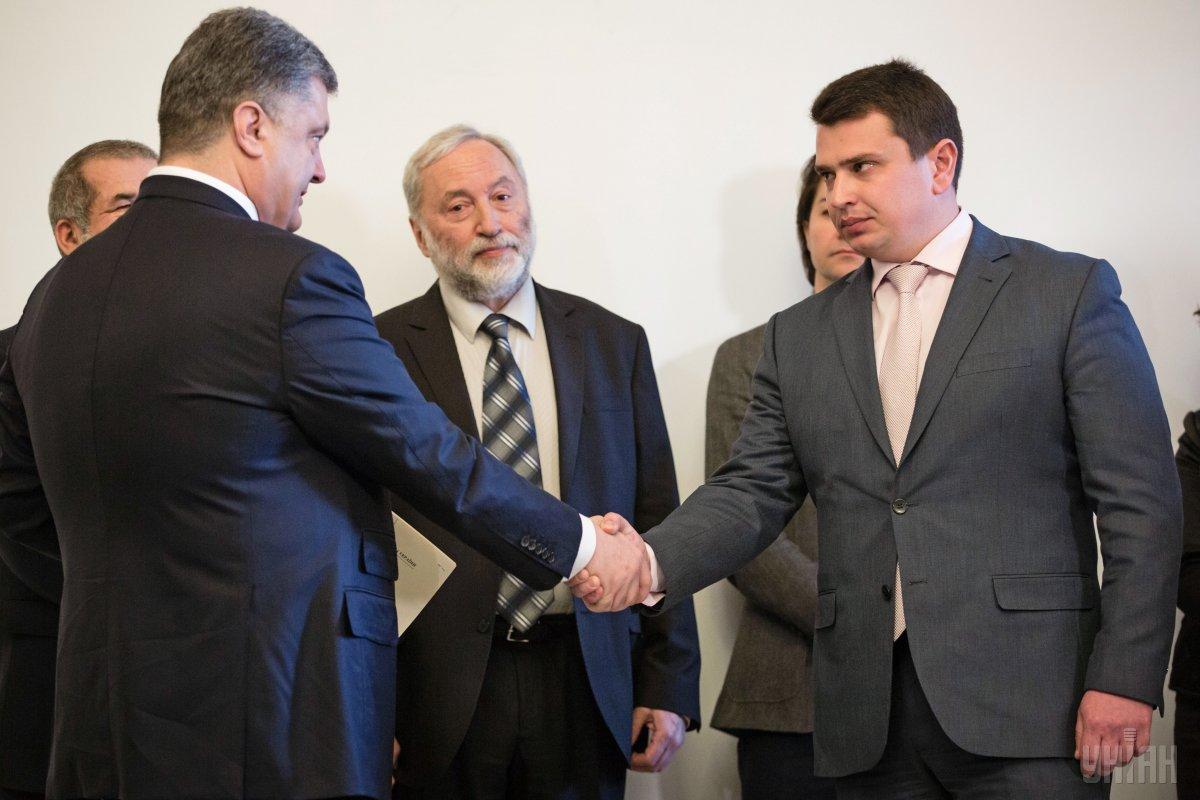 Poroshenko (left) is shaking hands with Sytnyk (right) / Photo from UNIAN
Director of the National Anti-Corruption Bureau of Ukraine (NABU) Artem Sytnyk has revealed details of his private visit to President Petro Poroshenko's house late at night on April 26, 2018, claiming their private meeting had no impact on NABU agents' work.
"The president invited for a conversation and it concerned the Anti-Corruption Court. This is a court that is directly linked with NABU. And it is related to a problem we have been talking about for two years. Even amid war, the enemies sit down at the negotiating table. In our case, it was a dispute," Sytnyk told Hromadske TV.
According to Sytnyk, the meeting was initiated by Poroshenko.
Read alsoNABU chief Sytnyk denies feud with another anti-corruption agency
Answering a clarifying question, why it was not done publicly, Sytnyk noted there were also public talks at the level of the Presidential Administration. Asked about the reputational consequences related to his visit to the Ukrainian president's private house at night, Sytnyk explained: "It was not a secret visit and I of course was aware it could become known. Why has it come to the surface right now, whereas it happened a long time ago? The important thing is that it did not affect NABU's work – you may check with any detective."
The meeting resulted into the adoption by the parliament of the law on the Anti-Corruption Court and the president lobbied the decision in parliament.
"I had a tete-a-tete meeting with the president of Ukraine regarding the Anti-Corruption Court. NABU has no right of a legislative initiative and we know, let's be frank, the president has a determining – if not decisive – influence in parliament. There was a certain discussion. It ended with the adoption of the law," Sytnyk said.
Asked whether he would agree to come if Poroshenko invited him again, the NABU head answered: "Probably I wouldn't. After such a reaction [of the public], apparently, no."
Sytnyk's night visit to Poroshenko this spring was first reported by journalists of the Schemes TV program. The meeting took place late on the evening of April 26. Journalists noticed a Skoda car near the private residence of Poroshenko. It later turned out that the car belongs to Sytnyk.
As UNIAN reported, the Verkhovna Rada, Ukraine's parliament, on July 12 passed a bill amending the law on the judiciary and the status of judges in connection with the adoption of the law on the High Anti-Corruption Court, or HACC (No. 7441).
On August 2, President Poroshenko signed the bill into law.