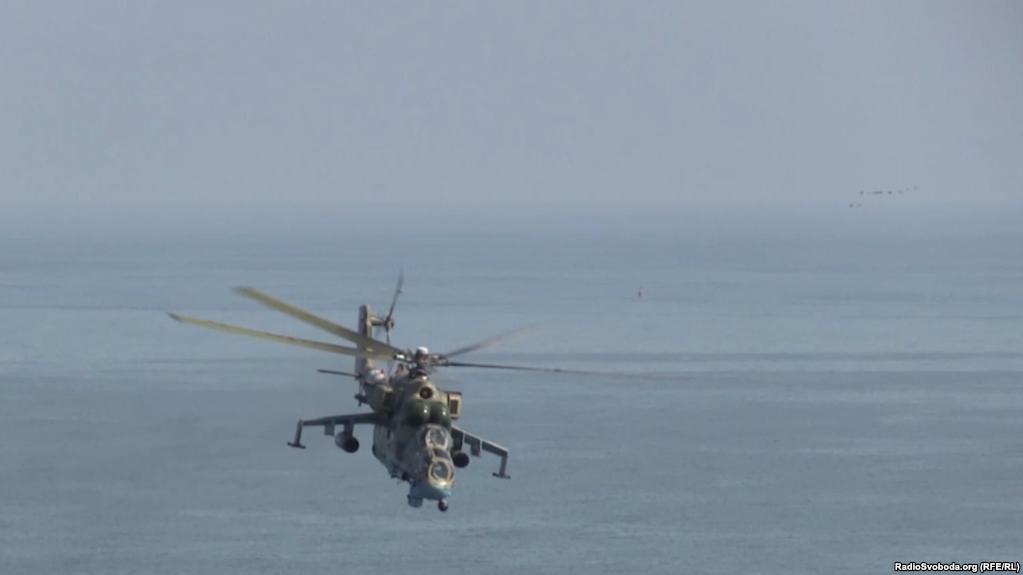 Photo from Radio Liberty
Ukraine's Air Force is getting ready to counter Russian aggression, as Mil Mi-24 attack helicopters and Sukhoi Su-25 attack aircraft flying a few dozen meters above the beach with holidaymakers at the Sea of Azov are only taking part in drills.
"[This is needed] to constantly improve the flight crews' skills to counter the enemy's air defense and be table to strike certain targets," serviceman of the Armed Forces of Ukraine Serhiy Yalushev told Radio Liberty's Ukrainian service.
Yet, members of Ukraine's Air Force admit, the reason for such activity in the sky is not quite the desire to keep themselves in shape.
"Regular drills are held to address the crisis in the Sea of Azov. These are the army aviation's readiness reviews to see how they handle sudden tasks to hit land and sea targets," the head of the army aviation's department, Muhammad Bulanbayev, has said.
According to the Ukrainian military, the crisis has been provoked by Russia, which has been blocking the Ukrainian ports in the Sea of Azov for the fourth month.
"For today, unfortunately, aviation is the only available, full-fledged way to counteract the Russians at sea, as neither the Navy nor other forces have anti-ship, coastal or surface [defense] systems, that is, the country basically does not have anti-ship missiles at all. The Air Force is the only effective way of counteraction," Chairman of the Ukrainian Military Center's board Taras Chmut has said.
But the training of the crews from Ukraine's Joint Forces is not limited to the Azov direction. The geography of the drills is much wider.
Read alsoUkraine's deputy minister for occupied areas: Use of force to unlock Azov Sea situation among scenarios
As UNIAN reported earlier, Ukrainian Deputy Minister for temporarily occupied territories and internally displaced persons George Tuka said the use of force to unlock the situation around Ukrainian navigation in the Sea of Azov was among the possible scenarios.
What is more, the Ukrainian Navy's Command unveiled its strategy for the development of the Ukrainian Navy until 2035, which foresees measures to counter Russian aggression.