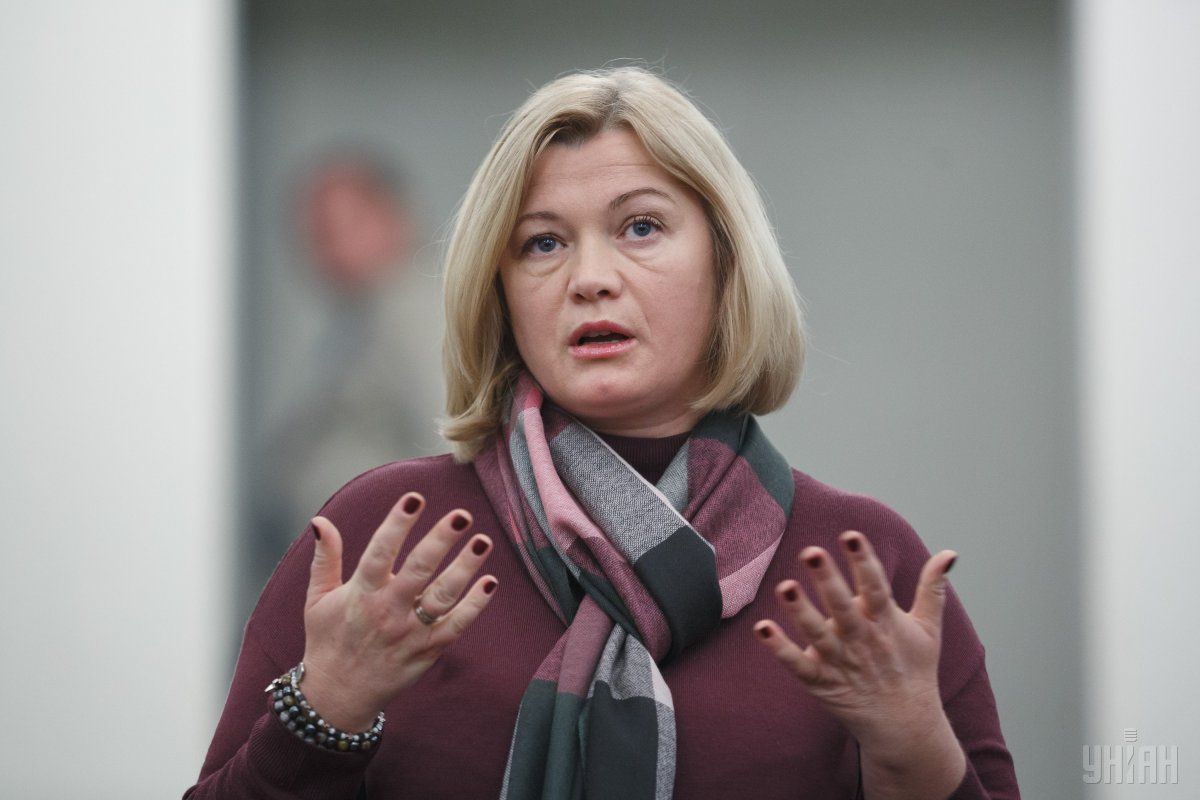 Photo from UNIAN
First Deputy Chair of the Verkhovna Rada Iryna Gerashchenko says that Ukraine is ready to pardon "several dozen criminals" who fought in the ranks of Russian-controlled militants to ensure the liberation of Ukrainian hostages in Donbas.
"Oleh Sentsov continues his hunger strike demanding the release not only of himself but all Ukrainian political prisoners held in the Russian Federation. The same demand is made by the Ukrainian side at all negotiations," Gerashchenko said.
She recalled that, according to the information of the Ministry of Foreign Affairs of Ukraine and human rights organizations, which carefully document all the facts of illegal detention of Ukrainians, today in the prisons of Russia and in the occupied Crimea, about 70 Ukrainians and Crimean Tatars are being held illegally, for political reasons. "A few dozen Ukrainians - military and civilians – are being illegally kept by the gangs in the occupied parts of Donbas," said Gerashchenko.
Read alsoOver 100 Western filmmakers call on Russia to free Sentsov
"Ukraine has not received a response to the initiative to transfer 36 Russians - criminals and terrorists - for the sake of liberation of our people, and we are also ready to pardon several dozen criminals involved in the war in Donbas in the ranks of pro-Russian gangs in order to get our people out of there. We do not draw a difference between Ukrainians held in the prisons of Russia, Crimea and Donbas – our priority is the liberation of all of them," Gerashchenko stressed.
According to her, "representatives of ORDLO in Minsk are trying to play a Kremlin scenario of 'exchanging all who are confirmed for all confirmed [on the other side]', arguing that there are only 20 Ukrainians in their dungeons, while demanding 300 from us. It is a shame that some OSCE representatives do not go into details and publicly play along with these shameful and unacceptable scenarios."
Read alsoRussia confronted at UN over torture in occupied Crimea
"We stand for a different formula: Ukrainians illegally detained in the Russian Federation are on the list of confirmed individuals, as the whole world knows where Sentsov, Sushchenko, Balukh, Karpuk, Panov, Kuku, Kolchenko, and others are being held. We are waiting for Russia to respond to our proposal: take away 36 of yours - give back ours! Give your puppets in Donbas an order to pick up a few dozen criminals and give back our heroes," Gerashchenko said.
"We proposed that the Ukrainian Ombudsperson, Liudmyla Denisova, meet with her Russian counterpart Tatyana Moskalkova in Minsk on August 21-22, within the framework of the Trilateral Contact Group, and make efforts to unblock the process of releasing the detainees. Ukraine is ready for this," Gerashchenko said.
"We stand on the position of Oleh Sentsov and demand to release everyone!" she stressed.