Nuland: Russia miscalculated cost of meddling in Ukraine
The United States has no intention of causing harm to the Russian people, and Russia's current problems were caused by the choices made by the country, U.S. Assistant Secretary of State for European and Eurasian Affairs Victoria Nuland said at the American Enterprise Institute on Wednesday, according to Radio Liberty.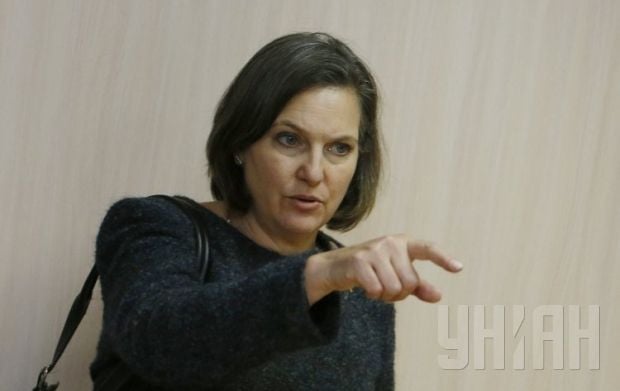 UNIAN
"The point is not just the material [costs] of maintaining tens of thousands of Russian troops on the border with Ukraine and in Crimea - it's [also] the negative consequences of sanctions and international isolation," she said.
"Now, when the ruble is falling, inflation is rampant, the cost of credits is increasing, these consequences are affecting Russians," Nuland said.
"The U.S. has no intention to cause harm to the Russian people. The current situation in Russia is only a consequence of the choice of the country," she said.
"Over the last 23 years the United States has provided about $20 billion in assistance to Russia," she added.
The low price of oil, which together with gas is one of the main sources of the budget revenues in Russia, has recently combined with sanctions, imposed on Russia by the United States, the European Union and other countries because of its aggression against Ukraine, to cause a steep fall in the value of the Russian ruble.
If you see a spelling error on our site, select it and press Ctrl+Enter