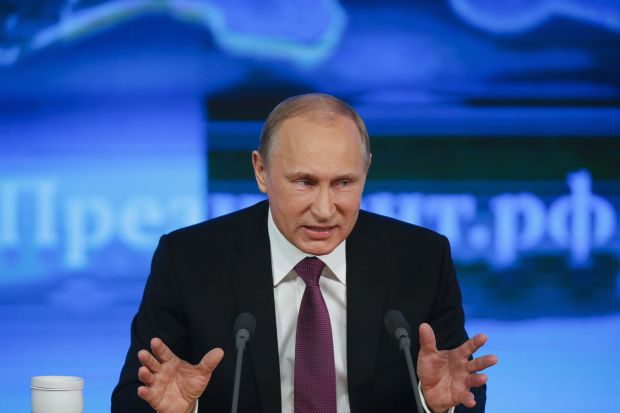 REUTERS
According to UNIAN correspondent in Russia, Putin said this at his major annual press conference, which was held on Thursday in Moscow.
Asked about Ukrainian prisoners, Putin said: "As for other soldiers, mentioned by you, we do not consider them as prisoners of war, they are in prison and subject to preliminary investigation on suspicions of their being involved in terrorist activities."
As UNIAN reported earlier, on December 17, Mark Feigin, the lawyer of Ukrainian female pilot Nadezhda Savchenko, told that Russia is keeping about 30 Ukrainian prisoners in various detention centers.
"From what we know from human rights defenders and some Ukrainian citizens, the relatives of those who were held captive near Ilovaisk and were transferred to Russia, there are about 30 people," he said.
According to Feigin, among 30 Ukrainian captives held in Russian prisons are the soldiers of various "paramilitary formations," as well as members of regular units of the Armed Forces of Ukraine.
"They are in various detention centers. This has been confirmed by a number of human rights organizations," he said, adding that in this situation the Ukrainian Ministry of Foreign Affairs must address the Russian Foreign Ministry, contact the Investigative Committee of the Russian Federation regarding the individuals who are involved in the criminal case to which Savchenko is also connected, and demand that it present a list of Ukrainian citizens that are being held captive.
As Feigin said, success in the case of Savchenko will set a precedent and promote the release of other Ukrainian prisoners of war.