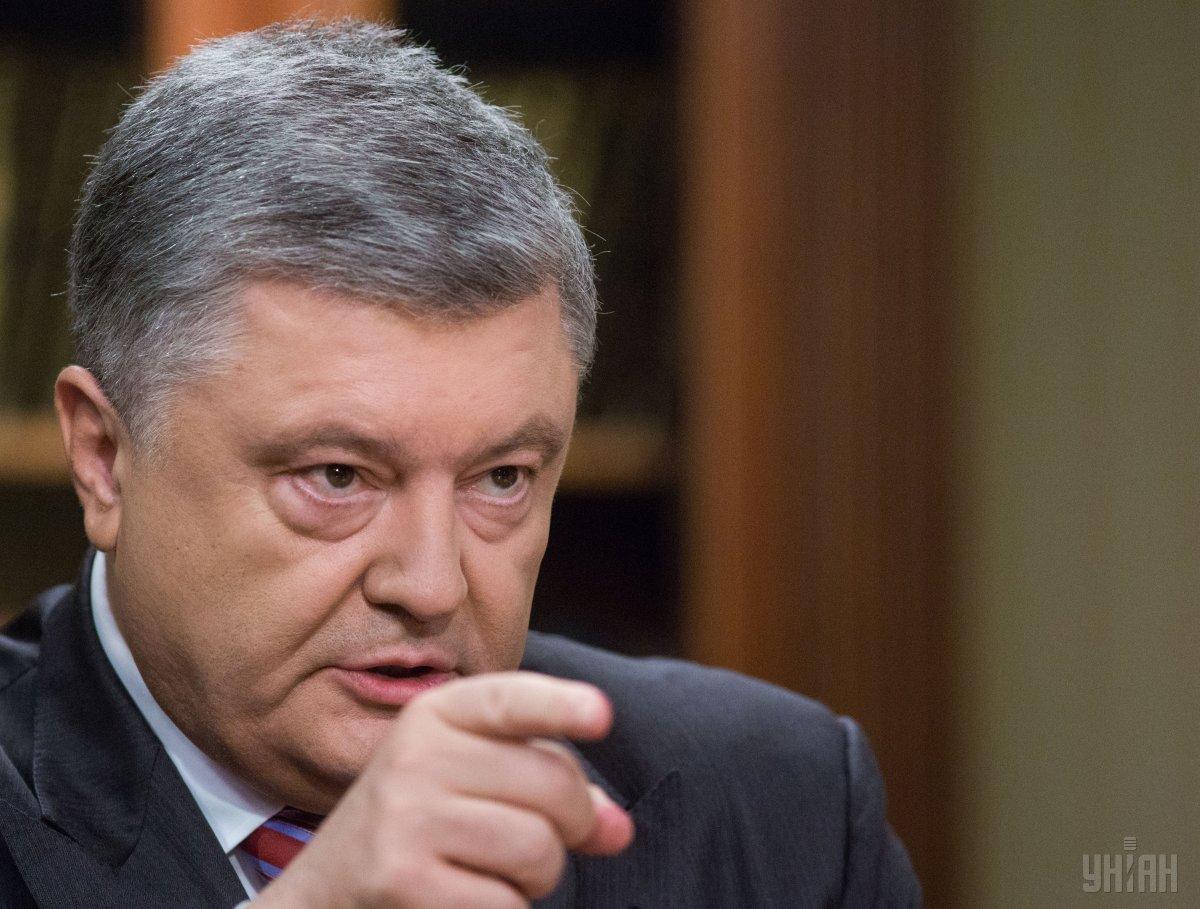 Photo from UNIAN
President Petro Poroshenko of Ukraine has warned that his country's pro-western reform process is in danger because of approaching presidential and parliamentary elections and what he said was Russian interference in the campaigns.
In an interview with the Financial Times in Kyiv, Mr. Poroshenko said the prolonged conflict with Russia and Moscow-backed separatists in Donbas region of south-eastern Ukraine was a severe test of his country's unity. But he said that contrary to the intentions of Vladimir Putin, Russia's president, Ukraine was becoming stronger and more pro-European as a result.
Mr. Poroshenko said ahead of Ukraine's Independence Day on Friday that the main achievements of his presidency, now in its fifth year, included putting Ukraine on a path to European and transatlantic integration, fending off Russian pressure and adopting reforms to education, healthcare, pensions, the banking sector and public administration.
However, he added: "It is because of the presidential election that all these reform processes are in danger. Definitely.
"The reform processes are not irreversible and that's why they are in danger. Why? Because of Russia. Russia has taken enormous steps, in conditions of hybrid war, to return Ukraine to its sphere of influence."
Read alsoBolton: U.S. to help Ukraine counter Russian 'meddling'
Mr. Poroshenko, 52, is expected to seek re-election in the presidential contest, which is scheduled for March. Elections to Ukraine's legislature are due by November 2019.
The president's supporters say he will portray himself as the most reliable guarantor of Ukraine's independence and stability when a diplomatic solution to the war in Donbas seems remote. More than 10,000 people have died in the war, which broke out soon after Ukraine's February 2014 pro-democracy revolution and Russia's annexation of Crimea from Ukraine. The Kremlin denies direct involvement in the war despite widespread evidence to the contrary.
"It is an extremely difficult task to protect the country's independence and sovereignty in conditions of hybrid war," Mr. Poroshenko said.
Apart from conventional military methods and a partial trade embargo, "the involvement of Russia in the election process is enormous – by cyber war, by using social media, by using television stations and by supporting political forces whether they be leftist, rightist, pro-Russian or nationalist", he added.
Mr. Poroshenko won almost 55 per cent of votes in the first round of Ukraine's 2014 election, but opinion polls suggest that next year's election will be much closer. There may be as many as a dozen candidates and most polls show no clear frontrunner. Support for Mr. Poroshenko hovers around 10 per cent but could rise once he has formally declared himself a candidate.
Mr. Poroshenko acknowledged a risk that unconventional candidates – among those tipped to run are a comedian and a pop star – might benefit from public discontent with the political establishment, the state of the economy and the war.
"Populist, irresponsible forces, by using various technologies, can gain victory or at least part of the vote. But I am proud that all the time the choices of the Ukrainian people have been very responsible. I'm absolutely confident that this time it will be the same and that Putin cannot play with the votes of Ukrainian voters," he said.
The first politician to enter next year's race is Yulia Tymoshenko, 57, a former prime minister who was jailed under Viktor Yanukovych, Mr. Poroshenko's pro-Russia predecessor. She is regarded as one of Mr. Poroshenko's most serious challengers on account of her well-oiled political campaign machine and her ability to strike a chord with voters.
Read alsoPoroshenko tells NSDC to prepare for Russia meddling in Ukraine elections
Western governments that have supported Ukraine since 2014 are concerned that, whoever wins the election, the grip of super-rich business oligarchs on the political system will not loosen and corruption will continue to gnaw at the economy.
Mr. Poroshenko noted that Ukraine's parliament had passed amendments last month to legislation setting up an anti-corruption court, a step that went some way to unlocking the latest $1.9bn tranche of a $17.5bn IMF aid package.
However, the government has not yet met another IMF condition by increasing once heavily subsidised household gas prices to market levels.
Asked if Ukrainian society was tiring of the war, Mr. Poroshenko said: "If you can show me a nation that is happy during a war – no, this is simply impossible. This is a very serious test of the unity of our country. But we are united and strong as never before. Do you know why? Because of Putin.
"I'm proud of my country because, despite all the efforts of Putin, we still have more than 70 per cent support for [Ukraine's] European Union integration and more than 54 per cent for transatlantic integration."
An EU-Ukraine free trade and association agreement came into full effect last year, but the EU has not offered Kyiv the prospect of full membership. Ukraine aspires to join NATO but many European governments are wary of extending a membership offer.