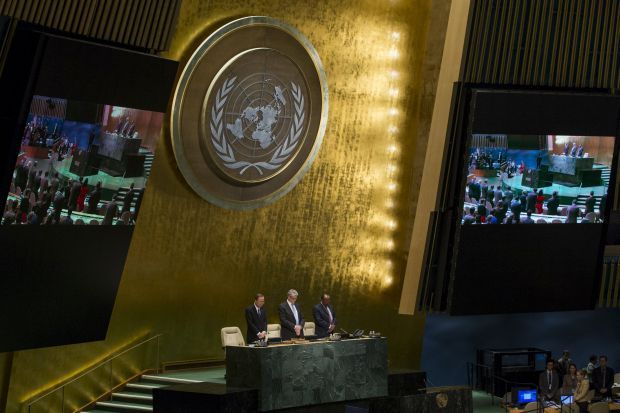 REUTERS
The Ukrainian side is preparing a series of initiatives for the 73rd session of the UN General Assembly that will be an unpleasant surprise for Moscow, according to Permanent Representative of Ukraine to the United Nations, Volodymyr Yelchenko.
"We are preparing a number of initiatives for the General Assembly. It's not that I don't want to, I just can't disclose them all, because you should understand that our powerful northern neighbor is expecting just that. But, as I said several times last year, and a year before last, they will face a few very unpleasant surprises," Yelchenko said during his Tuesday speech, broadcast by Pryamyi TV channel.
The diplomat specified that these initiatives would concern, in particular, the issues of Crimea occupation and Russia's armed aggression in Donbas.
Read alsoPoroshenko to table bill in parliament to amend Constitution for accession to NATO, EU
"This applies to Crimea and Donbas, as well as the issue conditionally titled 'Militarization of Crimea.' This will be a sort of a new initiative," he said.
As reported earlier, Volodymyr Yelchenko was elected vice-chairman of the 73rd session of the UN General Assembly. The 73rd session of the General Assembly will open on September 18 under the chairmanship of Maria Fernanda Espinosa Garcés (Ecuador).