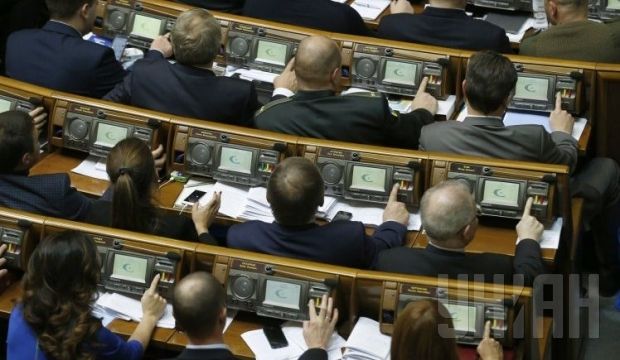 UNIAN
The draft budget with proposals from the Parliamentary Committee on the Budget is now expected to be considered and approved at first reading on December 25, with a final vote coming five days later. 
According to UNIAN's correspondent in parliament, 253 deputies out of 334 registered in the session hall voted for the corresponding resolution (No. 1000-P).
The resolution was backed along with a proposal from the leader of the Bloc of Petro Poroshenko faction, Yuriy Lutsenko, who said that the coalition was not yet ready to make any decisions, as it has to examine materials submitted by the government.
Lutsenko proposed to consider at first reading 44 bills to be submitted by the government on December 25, together with the changes to the Budget and Tax Code, and on Sunday, December 28, to consider them at second reading, with final voting for the state budget of Ukraine to take place on Tuesday, December 30.
Resolution No. 1000-P1, which altered the initial resolution to match Lutsenko's proposed voting schedule, was then appoved with 266 MPs voting in favor.  
As UNIAN reported earlier, on December 22 a draft resolution was registered in the Verkhovna Rada "On peculiarities of the procedure for consideration and adoption of the draft law of Ukraine "On the State Budget of Ukraine for 2015" (No. 1000-P).
The document provided, among other things, that the presentation of the draft law on state budget for 2015 was be held on December 23, and its consideration by MPs and addition of amendments to the draft not later than 1200 on December 24.
Consideration of the draft budget with the proposals of the Parliamentary Committee on the Budget and its adoption had been planned for December 25, 2014.