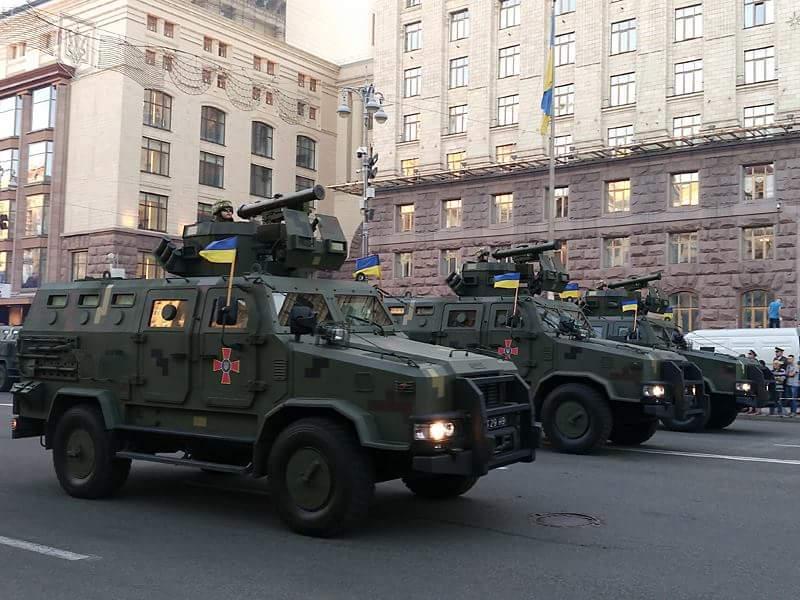 fakty.ua
At a military parade in Kyiv that marked the 27th anniversary of Ukraine's declaration of independence, pride of place went to the Javelin anti-tank missiles that the government acquired earlier this year from the U.S. Armored vehicles carrying the missiles rolled down Khreshchatyk, the capital's main thoroughfare, in a ceremony that involved military aircraft and some 4,500 troops.
The parade on August 24 underscored the Ukrainian government's determination to send a message, to its citizens and to the world, that Kyiv will not give up in what its leaders see as a grim, life-and-death struggle to defend the national freedom symbolized by the 2014 democratic revolution which overthrew pro-Russian leader Viktor Yanukovych. "Our generation's major goal is to make our independence irreversible, to turn Ukraine into a strong and great country, without the possibility of returning to the zone of Russian influence," Petro Poroshenko, Ukraine's president, told the parade crowd, according to the Financial Times.
Closing the door on Russia, and opening it to the EU via a trade deal, has been a boon to Ukraine's domestic companies and foreign investors in sectors from IT to manufacturing.
But the conflict with Russia and Moscow-backed separatists in the south-eastern Donbas region, now in its fifth year, remains a major threat to the economic recovery.
Read alsoMore Javelins to be produced, including for Ukraine, Lithuania
The 210 Javelin missiles and 37 launchers added to Ukraine's arsenal of modern weaponry will not determine the military outcome. But the missiles are a source of reassurance to the government in Kyiv, fearful that support in Washington and other western capitals may diminish over time as the conflict drags on, with no obvious prospect of a comprehensive settlement.
"The Javelins are important in symbolic as well as material terms," says Ivanna Klympush-Tsintsadze, Ukraine's deputy premier for European and Euro-Atlantic integration. "With clear bipartisan support in Congress, we've been reassured that U.S. policy towards Ukraine is coherent and designed to support Ukraine's independence, territorial integrity and sovereignty under international law."
In July, Kyiv feared that President Donald Trump and Vladimir Putin, his Russian counterpart, might use their Helsinki summit to reach an understanding about the Donbas conflict, and the Russian annexation of the Crimean peninsula that preceded it. Some policymakers in Kyiv were aghast to hear Mr. Trump speak warmly of Mr. Putin and make no public criticism of Russian policies towards Ukraine.
But Kurt Volker, the U.S. special representative for Ukraine negotiations, says these worries were overblown. The U.S. will keep sanctions on Russia until it changes its behavior and, more specifically, does not support the Kremlin's proposal for a referendum to settle the status of Donbas, Mr. Volker says. Anxious politicians in Kyiv fret nonetheless that western policymakers will come to regard the Donbas war as comparable with so-called "frozen conflicts" in the former Soviet republics of Azerbaijan, Georgia and Moldova, where fighting has ended, but without a political solution. These conflicts erupted around the time of the Soviet Union's collapse in 1991 and, having never been resolved, created ample opportunities for Russia to wield political and military influence in the space that it views as its "near abroad".
A similar outcome in Donbas would not only leave Ukraine – already a truncated state after Russia's action in Crimea – without certainty of regaining control of a strategically important region. It would also give the Kremlin powerful leverage over Ukrainian politics and leave a question mark over the very concept of Ukrainian statehood.
"They'll do whatever they can to undermine Ukraine's democracy and its pro-western course, and to discredit the idea of Ukrainian independence," says Oleksandr Danylyuk, a Ukrainian military analyst of Russian hybrid warfare.
Read alsoRussian-led forces amassing military hardware in occupied Donbas - JCCC
Russia denies direct involvement in the confrontation, despite widespread evidence to the contrary. For their part, Ukrainian government ministers and defense officials say the conflict, far from being "frozen", is very much a "hot" one. Every week brings numerous violations of a ceasefire agreed in 2015 but rarely heeded since. Casualties are reported on an almost daily basis, adding to the toll of more than 10,000 dead since the fighting started in April 2014.
For the moment, the U.S. and the EU are united in maintaining sanctions on Russia. But Ukrainian government and opposition politicians are concerned that cracks are appearing in the west's common front, thanks in part to the rising influence of Russophile political parties in countries such as Austria, the Czech Republic, Hungary and Italy.
"Can Ukraine alone cope with a Russia armed to the teeth? No," says former prime minister Arseniy Yatsenyuk. "The problem has been that the west has not sent a clear-cut message to Putin – that the west will never abandon Ukraine, that Ukraine is part of the western world and that, Mr. Putin, you cannot even dream of taking over Ukraine or setting up new spheres of influence."
Alexei Kudrin, a liberal ex-finance minister of Russia, estimates that the U.S. and EU sanctions have reduced Russian gross domestic product by half a percentage point a year since their introduction in 2014. However, Alexander Valchyshen, head of research at ICU, an investment firm specializing in central and eastern Europe, doubts the sanctions will change Russian behavior.
"I'm not saying the sanctions aren't working. I'm saying that they are not counteracting Russian intentions," says Mr. Valchyshen. "The Russians are not resource-constrained in Donbas and Crimea. I am sceptical that the Russian government is so overburdened that it will withdraw from Donbas."
Meanwhile, western capitals would like the government in Kyiv to make a more serious effort to win the hearts and minds of the roughly 4m civilians caught up in the Donbas conflict, especially those living in separatist-controlled areas.
Kyiv restricts these citizens' access to public services and is reluctant to endorse an amnesty for doctors, teachers and other workers who are not pro-separatist but who have found themselves living behind "enemy lines". Some politicians in Kyiv seem lukewarm about reintegrating Donbas civilians into Ukraine's democratic life on account of suspicions that they might vote strongly, as in the pre-2014 era, for presidential candidates and parties less than enthusiastic about national independence and pro-western policies.
All that said, Russia's intervention in Donbas has been the single most important factor of the past quarter of a century in accelerating the process of Ukrainian nation-building, politicians say. "Ukrainians are finally getting to the point of creating a political nation," observes Ms. Klympush-Tsintsadze. "We are still vulnerable to Russian attacks and influence, but we're further down the road than we were in 2014."