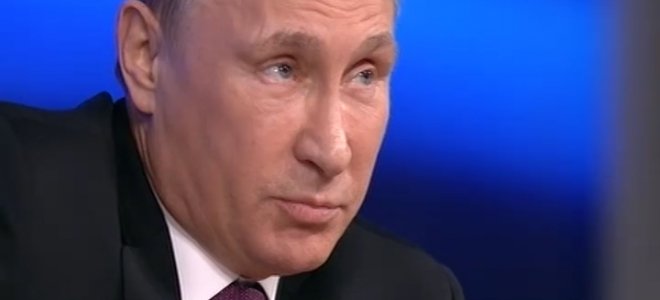 UNIAN
"Black Tuesday" showed the weakness of the Russian ruble and made it clear that one can not put too much hope on Russia's limited reserve assets, which have been divided between Putin-supported organizations and their heads. The Russian ruble's strengthening somewhat in recent days has failed to restore confidence in the Russian currency and government. In light of these developments, Putin's advice has been to grin and bare it for several years.
The question is - what for. For Crimea? For the Donbas? And what will become of Russia and its people over these years?
With the initiative lost and aggression against Ukraine intensifying, Putin's regime is doomed to start a "witch-hunt" in Russia. When Putin's propagandists can no longer explain the difference between the virtual reality of "establishing the Russian world" and the national currency and economy being practically in a shambles, the time will come for pinpointing the guilty parties and traitors in the country.
In this light, the trial of Navalny and the fight of some Russians for the right to fair justice might provide the domestic police force with an excuse to intimidate dissidents and all those who disagree with the regime. They could start by completely blocking Facebook, Twitter and other social networks.
That said, all large businesses in Russia will show loyalty to the Kremlin for fear of reprisals. Following the show arrest and release (although not before the Bashneft oil company was returned to the state) of Vladimir Yevtushenkov, chairperson of the System joint-stock financial corporation, hardly any businessman will dare to openly challenge the Kremlin (for example, by financing the opposition or helping to stage protests).
Putin made sure he drove this home to Russian key economic figures at a recent Lord's Supper. In exchange, he offered full capital amnesty. The only question is whether Russian businessmen will be willing to inject capital into the domestic failing economy.
While tightening control in Russia, Putin also repeatedly showed that he was willing to continue confrontation with the West. This is apparent from both his words and Russia's position regarding the Donbas. Putin has made it clear that he is not going to withdraw support from Russia-backed terrorists in Donetsk and Luhansk oblasts and Moscow-backed saboteurs in other Ukrainian regions. The Kremlin will continue to send weapons, mercenaries (while forcing pacifists posing a threat to the regime to leave the country), and military units to kill Ukrainians, plunder Ukrainian villages and cities, and to disrupt the Ukrainian economy.
In fact, this is a punitive military campaign launched by Putin's regime against Ukraine (and indeed, against Europe too), which clearly defines Ukraine's future. Ukraine has two options: to defeat Putin, facing all the consequences, including global ones, or to cease to exist as a state and to open the way for Kremlin terrorists for looting new European states.
Most western countries are well aware of this. That is why the German chancellor has ultimately refused to act an intermediary in talks with Russia, letting France and Turkey play that role.
However, the West is used to exploiting its resources, including foreign policy ones, very prudently. Neither Washington, nor London, nor Berlin, nor Brussels will go all out to crush Putin's regime only to hastily support the collapsing Russian state later. Instead, they have opted for stifling the regime financially and economically. It will take one to two years for these tools to kick in. By the way, the Russian regime is doing everything to speed up its demise. Ukraine is a trap for Putin, in which the Russian bear has walked with all its four paws. And he is no longer able to bite the paws off to free himself. Meanwhile, the West is cynically and calculatingly compensating the deaths of best Ukrainian sons with financial aid and a real chance of management and economic reforms. It will be a long and painful process, and reformists will be constantly changed depending on how badly they perform.
The Western position towards Putin's Russia was recently made absolutely clear in the case of Cuba. Only six months ago, Putin cancelled Cuba's $30 billion worth of debts, and today Obama has notably ushered in a new era of U.S.-Cuba relations, effectively depriving Russia of any chance to play its own game.
The fact that before attending a meeting of the Collective Security Treaty Organization the presidents of Belarus and Kazakhstan met Ukrainian President Petro Poroshenko in Kyiv signifies a change in the foreign policies of post-Soviet and other countries. Even the closest Russia's allies have a clear understanding of the consequences the annexation of Crimea will have for Russia. Being seasoned politicians, they are trying to minimize risks to their own security, as well as to the security of their own countries and people.
However, the Kremlin and Putin show little concern for that – they have chosen to ignore reality by living in the desired fragments of their virtual world.
Putin has opted for confrontation until the end. But has Russia?