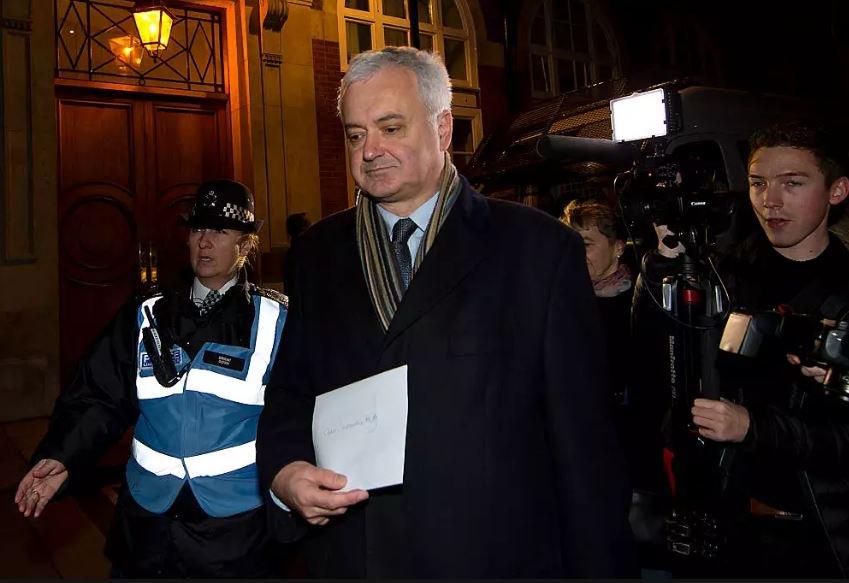 Corbyn's chief political adviser, former communist Andrew Murray / Photo from iNews
Jeremy Corbyn's most influential Commons adviser has been barred from entering Ukraine on the grounds that he is a national security threat because of his alleged links to Vladimir Putin's 'global propaganda network.'
Former communist Andrew Murray, Mr Corbyn's chief political adviser, was slapped with the three-year ban in June on the advice of the country's security service, the SBU, Daily Mail said.
"But last night Mr Murray, who has played a key role in a campaign to support pro-Moscow separatists in Ukraine, angrily denied being part of any 'so-called propaganda network,'" Daily Mail said.
Mr Murray, who was a member of the Communist party for 40 years, helped to launch a campaign in 2014 called Solidarity With The Antifascist Resistance In Ukraine (SARU) to protest at the West's backing of the "Kyiv regime." Russia made its first incursions into Ukrainian territory that year.
After President Putin annexed Crimea and backed pro-Moscow separatist forces in the self-declared Donetsk and Luhansk People's Republics, Mr Murray used SARU events to describe the conflict as 'a war waged by the Kyiv government' against 'peoples exercising their right to self-rule.'
Instead of blaming Putin's regime for the bloodshed, Mr Murray has pointed the finger at the pro-Western Kyiv government for obeying the 'dictates' of the EU and NATO.
He also questioned whether Moscow was responsible for the shooting down of the Malaysia Airlines flight MH17, killing all 283 passengers and 15 crew, over eastern Ukraine in that year.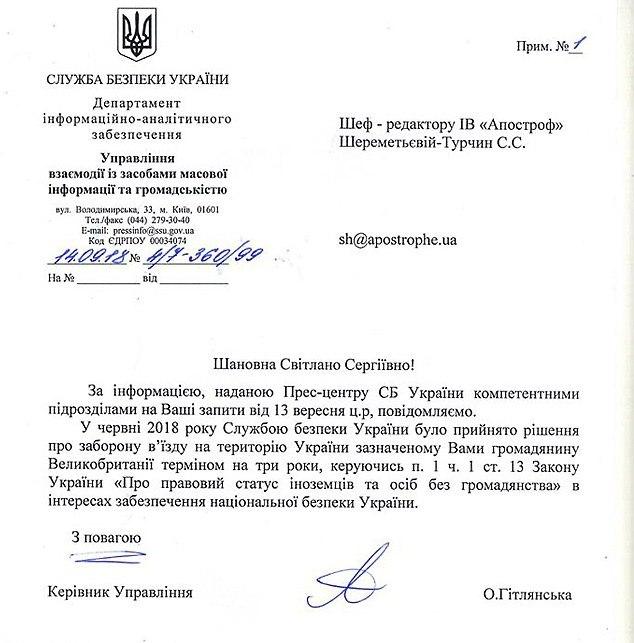 An SBU formal statement on Murray / Apostrophe.ua
This newspaper spoke to a serving SBU officer in Kyiv this weekend who claimed that Mr Murray had been put on the banned list because he was 'regarded as being part of Putin's global propaganda network, peddling Russian lies, particularly about Crimea and the war in Eastern Ukraine.'
Read alsoBritish brass band sparks diplomatic row with Ukraine by performing concerts in Crimea – media
He added: 'It is extremely unusual for us to ban anyone from entering the country, especially a Briton.
'It is not a step we take lightly and it means he is considered a potential threat to our national security.'
In a formal statement, the SBU said: 'We made a decision to ban the entrance of the citizen of Great Britain [Mr Murray] starting from June 2018 for three years based on the law of Ukraine about the legal state of foreign citizens ... in order to insure the national security of Ukraine.'
A spokesperson for Mr Murray said: 'Andrew completely rejects the suggestion of being part of a so-called propaganda network and is a frequent critic of Putin and his government. He has never been to Ukraine, nor has any plans to visit the country.'