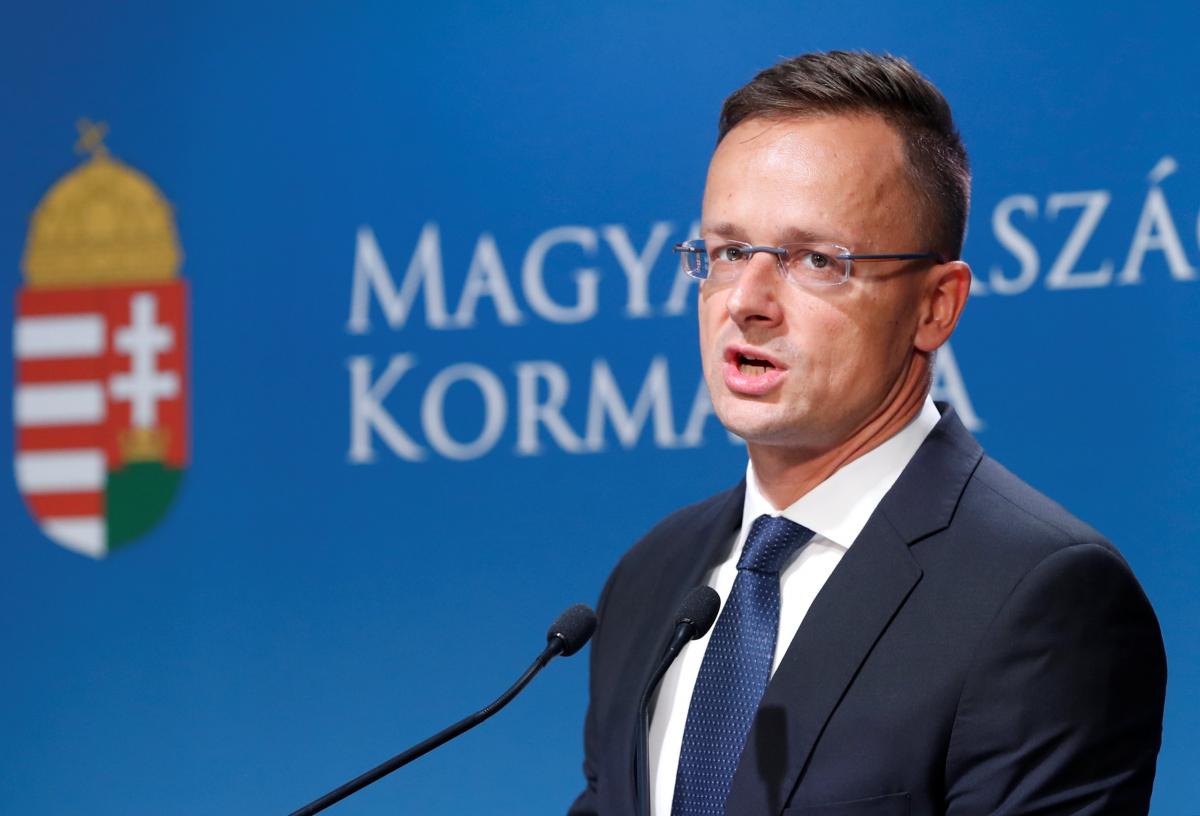 REUTERS
Hungary's Minister of Foreign Affairs and Trade Péter Szijjártó says his government regards it as an unfriendly and risky move that Ukraine is thinking about expelling the Hungarian Consul in Berehove over reportedly the secret issue of Hungarian passports to Ukrainian citizens.
"Such a step would place relations between the two countries in another dimension and would not remain unanswered, but the Ministry of Foreign Affairs and Trade has received no official indication of this nature," Hungary's Ministry of Foreign Affairs and Trade quoted Szijjártó as saying at a press event in Budapest on September 20.
"Following the measures that are discriminatory to the Transcarpathian Hungarians and various attempts to intimidate them, the series of attacks against us has now shifted to another level," he said.
"Hungary is continuously monitoring developments and it is possible that further measures to slow Ukraine's integration may also be required in future," he stated, adding that there will be "plenty to talk about" with relation to the situation at next week's session of the United Nations General Assembly in New York City.
On Wednesday, September 19, Ukrainian Foreign Minister Pavlo Klimkin did not exclude the possible expulsion of the Hungarian Consul in Berehove, after a secret recording of Ukrainian citizens taking an oath of Hungarian citizenship at the Hungarian Consulate in Berehove was uploaded to YouTube.
Read alsoHungary's consulate reportedly issues Hungarian passports to Ukrainians (Video)
Klimkin told reporters that he would be meeting Minister of Foreign Affairs and Trade Péter Szijjártó next week in New York on the sidelines of the session of the United Nations General Assembly and would be showing him the video recorded at the Hungarian Consulate in Berehove, which in his opinion is genuine.
"I will be telling Szijjártó that the Consul has no business in Transcarpathia and would do better to hand out Hungarian passports to Hungarians in Budapest," the Ukrainian Foreign Minister said, indicating that the agenda of his meeting with his Hungarian counterpart will be "extremely busy."
Szijjártó accused the Ukrainian side of attempts to intimidate Transcarpathian Hungarians.
"The government will not allow the Ukrainian administration to further worsen the situation of Transcarpathian Hungarians, and condemns the attempts to intimidate them in the strongest possible terms," Szijjártó said.
Szijjártó said it was a "particularly unfriendly" act that a video recorded with a hidden camera at the Hungarian Consulate-General in Berehove were exploited in the Ukrainian election campaign, using anti-Hungarian sentiment in an attempt to win votes. According to the minister, the recording were most probably made and leaked to order. He added that the citizenship oath recorded in the video conforms to all regulations, and accordingly the fact that the Ukrainian Foreign Minister objected to it can only be explained with domestic policy reasons and the upcoming election.
"Dual nationality is everyday practice within the EU, and accordingly the Ukrainian objections do not indicate that Kyiv is serious about European integration and joining NATO," the minister said. "Ukraine must also respect its international obligations, in addition to which it must also accept the fact that the 150 thousand strong Hungarian minority living in Ukraine still has rights, even if Ukraine is attempting to weaken those," he added.