Metropolitan Onufriy (Berezovsky) / Photo from UNIAN
Head of the Ukrainian Orthodox Church (Moscow Patriarchate) Metropolitan Onufriy (Berezovsky), 73, has been included in Ukraine's Myrotvorets (Peacekeeper) Center database, which lists individuals who pose a threat to the country's security.
Onufriy's profile posted on the website describes him as an agent of the Russian Orthodox Church in Ukraine and an opponent of the creation of an independent local church.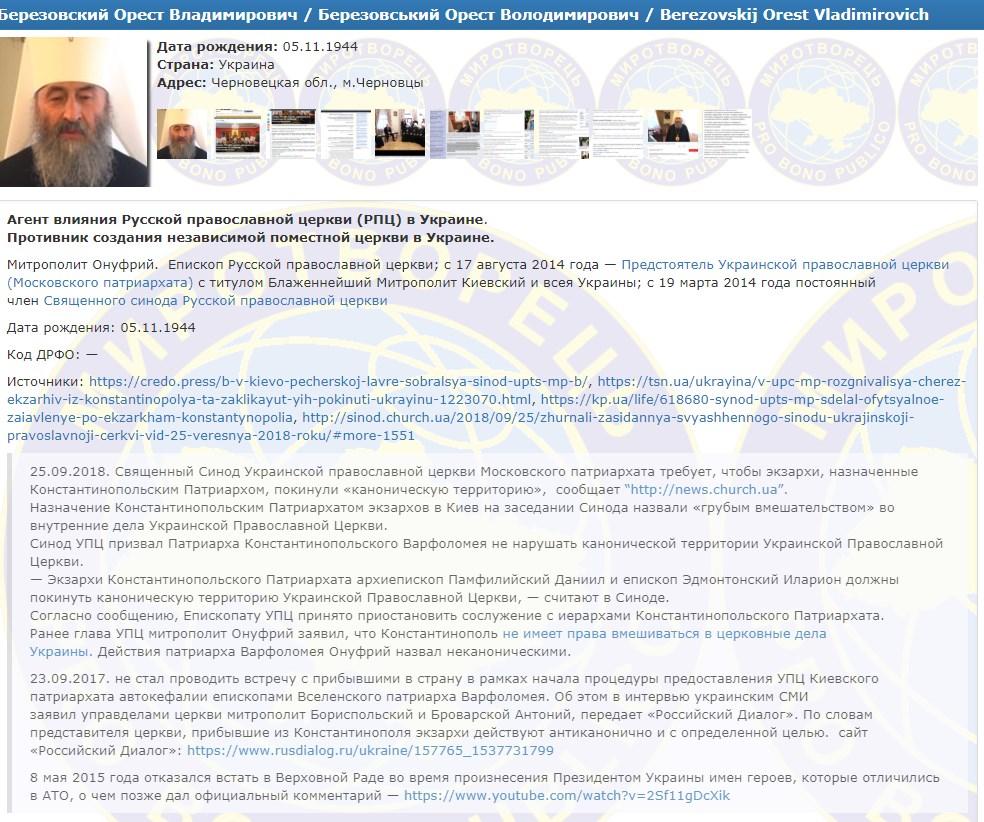 Screenshot from the Myrotvorets website
Some other archbishops of the same church are also listed on Myrotvorets because of a flat refusal to support autocephaly in Ukraine.
Read alsoVicar of Kyiv Pechersk Lavra lands up on Ukraine's Myrotvorets database (Photo, video)
As UNIAN reported earlier, Metropolitan Pavel, the vicar of the Kyiv Pechersk Lavra Monastery, which is controlled by the Ukrainian Orthodox Church (Moscow Patriarchate), was added to the Myrotvorets database over anti-Ukrainian propaganda.
The Ecumenical Patriarchate early in September 2018 confirmed that the Church of Constantinople is authorized, without the consent of other churches, to grant autonomy, or autocephaly, to a church that has requested it.
The Ukrainian authorities earlier this year asked Ecumenical Patriarch Bartholomew I of Constantinople to proclaim the independence of the Ukrainian local church by granting autocephaly.