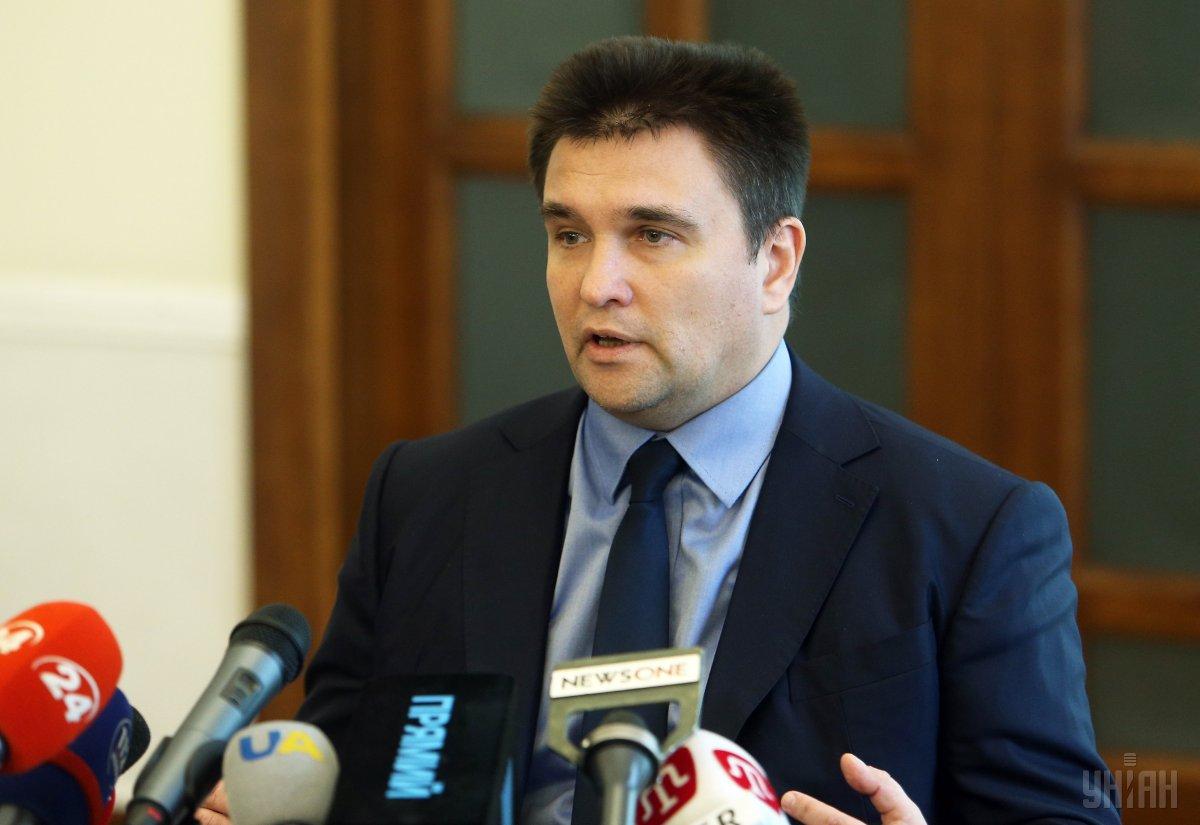 Photo from UNIAN
Ukrainian Foreign Minister Pavlo Klimkin called information about the possible exchange of illegally convicted Ukrainian film director Oleh Sentsov and other Ukrainians for Russian nationals arrested and convicted in the U.S. – alleged spy Maria Butina, drug dealer Konstantin Yaroshenko and arms dealer Viktor Bout – was not an accidental leak.
"The idea is to start bargaining again, raising stakes," Klimkin told the Crimean Tatar ATR TV Channel.
"This is very typical of Russia. Of course, they'll be saying after this that negotiations with the United States are on the table again, and that they will over Ukraine's head. As always – that's how it is laid out there," said Klimkin.
Read alsoRussia may free Sentsov in exchange for three Russians detained in U.S. – Russian media
"First, the United States won't do so [negotiate behind Ukraine's back]. I just discussed at numerous meetings in New York both the issue of political prisoners and that of hostage release. This is 100% true. Secondly, look at whom they mention. These are some classic criminals [Butina, Yaroshenko and Bout]," said Klimkin.
"There is Oleh [Sentsov] and there is someone who was engaged in arms trafficking... And in general, the idea is to put them at the same level, compare Oleh with whoever, with a plain criminal, and then say that he's of the same kind, so we're exchanging him," the foreign minister said.
"As you know, leaks never happen by accident," said Klimkin.
Read alsoKremlin unaware of plans to swap Sentsov for 3 Russians jailed in U.S. – Putin's spox
As reported earlier, on September 30, Russia's Novaya Gazeta wrote that the main condition for the illegally convicted Sentsov's return to Ukraine is the extradition of Bout and Yaroshenko convicted in the U.S. as well as that of Butina, who is now under arrest there.
This publication allegedly said a source close to the negotiations on the exchange of prisoners between Ukraine and the Russian Federation.
Butina was arrested in the United States on July 18, 2018, on suspicion of working as a foreign agent without the required registration, conspiracy to work in a foreign government and attempts to develop ties with individuals in the United States and infiltrate organizations that have influence on American politics. Boutina's lawyers rejected the charges.
Yaroshenko was detained in Liberia and extradited to the United States in 2010, where he was charged with drug smuggling and sentenced to 20 years in prison.
Bout was detained in Thailand in 2008, at Washington's request. In 2012, he was sentenced in the United States to 25 years in prison for arms trafficking and support for terrorist groups.
In March 2016, Russian media, citing sources, reported that the Kremlin was ready to exchange MP Nadezhda Savchenko, who was then detained in the Russian Federation, for Bout and Yaroshenko, but the White House refused such a deal.