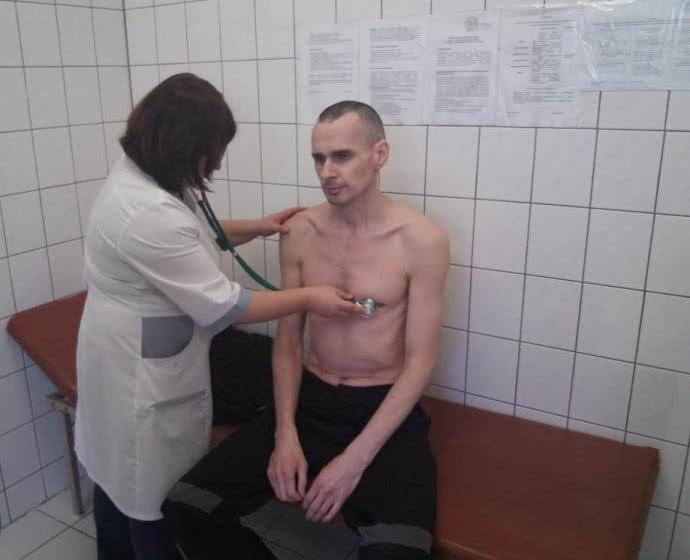 Sentsov has lost 20 kg during hunger strike / Photo from Yamalo-Nenetsky Area penitentiary authority 
Illegally convicted Ukrainian film director Oleh Sentsov, who has been servicing his 20-year term in a Russian penal colony, has announced the end of hunger strike from October 6 because of possible forced feeding.
"They plan to resort to forced feeding soon because of the critical state of my health, as well as the pathological changes in the inward parts of the body that have begun. But my opinion is not taken into account. Allegedly, I am no longer able to adequately assess the state of health and potential threats. Forced feeding will be part of resuscitation measures to save the patient's life. Under such conditions, I'll have to stop my hunger strike from tomorrow, October 6, 2018," Sentsov said in a statement he sent to his lawyer, Dmitriy Dinze, Russia's Novaya Gazeta newspaper wrote.
Read alsoSentsov stops hunger strike – Russian penitentiary agency
Sentsov began his hunger strike on May 14, 2018, demanding that Russia free all Ukrainian political prisoners.
"The 145-day struggle, minus 20 kg of weight, the damaged body, but the goal has not been achieved. I am grateful to everyone who has supported me, and I apologize to those whom I have let down ... Glory to Ukraine! Oleh Sentsov. October 5, 2018," the statement said.
As UNIAN reported earlier, Sentsov was arrested in Russian-occupied Crimea in spring 2014 and in August 2015 he was sentenced to 20 years in prison following an unfair trial where he faced "terrorism" charges stemming from his opposition to Russia's occupation of Crimea.
He has been serving his term in a penal colony in the town of Labytnangi, Russia's Yamal.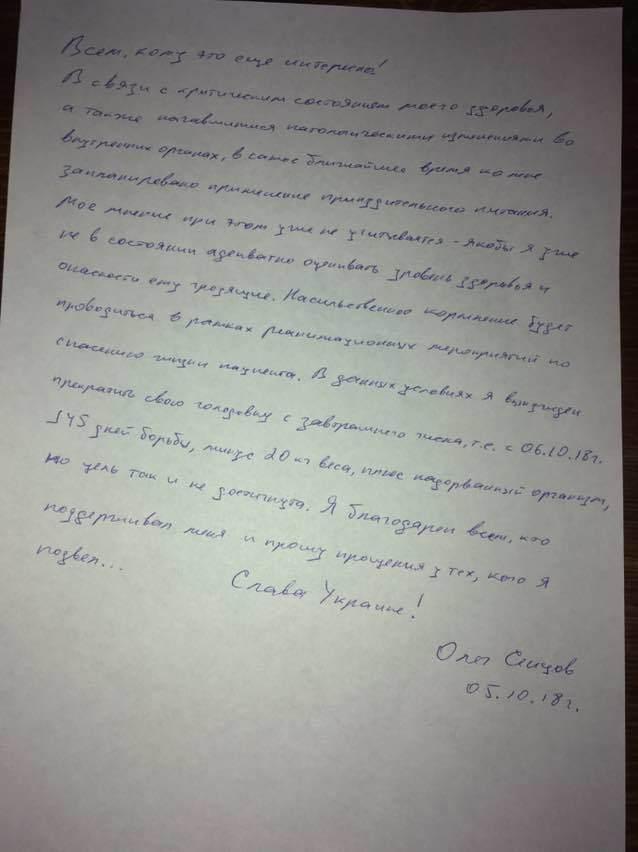 Sentsov's statement / Photo from novayagazeta.ru