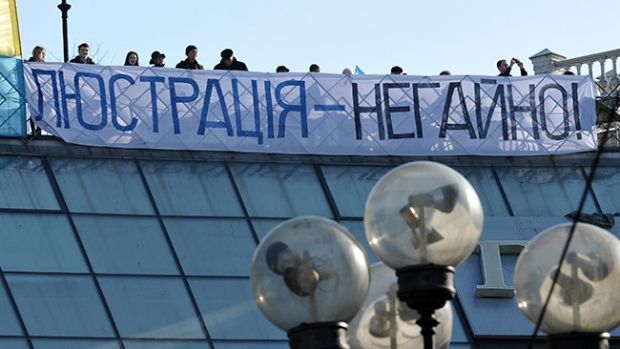 Photo from ocherk.info
A total of 357 officials have been registered to be subject to lustration.
A court in Kyiv has scheduled hearings of at least two cases on reinstatement of office. Dismissals on the basis of lustration are being challenged by officials of the Ukrainian Security Service, the Kyiv Regional Prosecutor's Office, and by two officials of Prosecutor General's Office.
Officials subject to lustration and dismissal demand an individual approach and court decisions are being challenged even by those with regard to whom lustration is clearly mandated by law, TSN said.
The country's judges have undertaken even more radical steps, having appealed to the Constitutional Court to declare the law on cleansing power unconstitutional, claiming lustration violates guarantees of judicial independence. However, examination of the assets of judges is inevitable under the law, TSN said. 
TSN said there are rumors of a surprisingly large number of officials travelling to the Donbas conflict zone. It reported the case of prosecutor of Druzhkivka Dmitry Sazonenko, who went to serve as a machine gunner in Slovyansk, which was liberated from militant occupation in August. However, instead of carrying out his duties at checkpoints, he has been visiting massage rooms, gyms and restaurants, TSN said. However, Nikolai Zaletsky, the commander of the unit where the prosecutor was seconded, has sworn that no one is neglecting their duties.
The lustration committee is intending to carry out additional examinations with regard to 70 people - among them government officials, prosecutors, and deputies – who are already considered ATO participants. Whether the prosecutor Sazonenko has been included on this list is unknown.
Meanwhile, the number of those subject to lustration but who have resigned voluntarily, maintaining all of their basic benefits, is impossible to determine, TSN said.