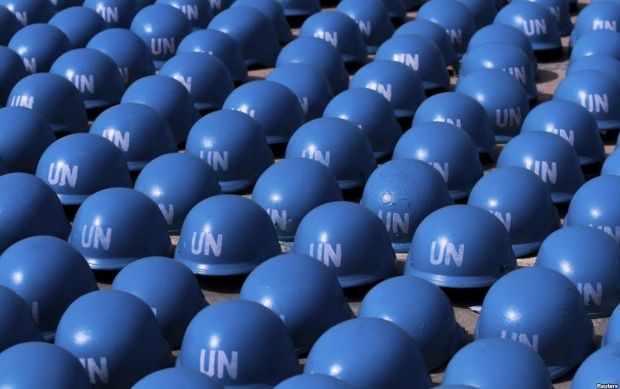 REUTERS
Advisor to Ukraine's minister for temporarily occupied territories and internally displaced persons, ex-Ambassador to Croatia Oleksandr Levchenko says a UN peacekeeping mission in Donbas should be deployed according to the "Croatian model."
"The ministry for temporarily occupied territories has once again analyzed the use of peacekeeping missions around the world. Having studied dozens of cases, we have come to the conclusion that the Croatian model would be the best for us from among all those that we have seen. Scenarios of events in Donbas and Croatia are very similar, although the difference is a 23-year lapse," he said at a press conference in Kyiv, an UNIAN correspondent reports.
According to Levchenko, the peacekeeping mission could follow Croatia's pattern.
Read alsoKlimkin: Resolution on UN peacekeepers in occupied Donbas drafted long time ago
"We have expressed the ministry's view in support of an international transitional administration that heads the international mission. This is an important and crucial component," he said.
Levchenko said a peacekeeping mission, as a rule, has three components – the military (70%), police (15%) and civilian one (15%).
"Since the full deployment of all military and police units, the transitional administration takes full control of the territory under the mandate for the future owner of this land – the Ukrainian state," he said.
"The peace plan for Donbas is the Minsk deal. There are no other documents that would be considered by the international community, therefore the fulfillment of the clauses of these agreements is, in fact, the finale for the temporarily occupied territories to be returned by peaceful means. We believe the future wording of a UN Security Council resolution [on a UN peacekeeping mission in Donbas] should incorporate a provision on the importance of this mission for facilitating the fulfillment of the Minsk agreements by the parties," the diplomat added.
According to him, rough estimates show that the future mission in Donbas should include from 25,000 to 50,000 peacekeepers.
"I do not exclude that 30 or even more countries will join in the international mission in Ukraine," Levchenko added, stressing the Russian Federation cannot participate in the UN mission in any way.