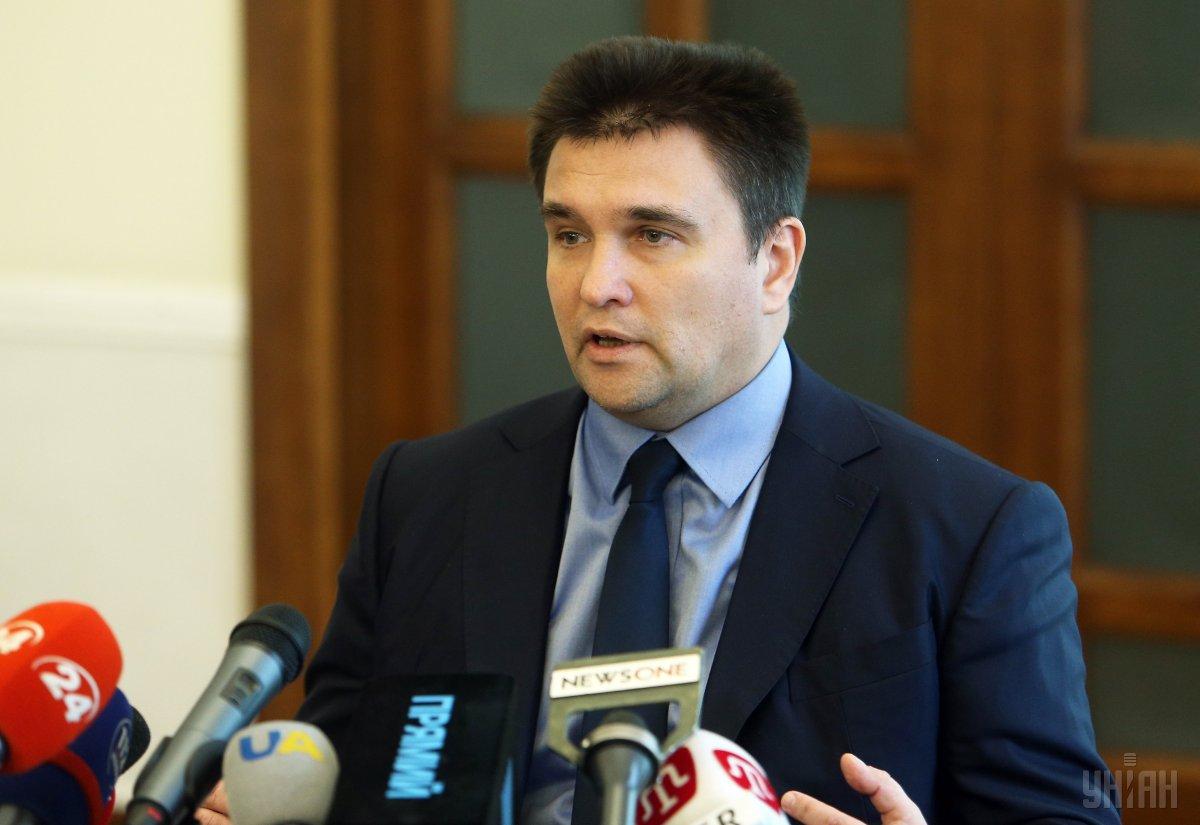 Photo from UNIAN
Foreign Minister of Ukraine Pavlo Klimkin and his Polish counterpart Jacek Czaputowicz discussed steps to restore monuments and search for the remains of those killed in past wars in the territories of both countries.
Speaking at a joint press conference with Czaputowicz in Warsaw October 23, Klimkin stressed it is impossible to avoid difficult subjects in common Ukrainian-Polish history.
Such issues should be looked at "with an open heart, sincerely," to understand what can be done, "because the emotional context of such understanding history does not help us move forward."
"Therefore, today we talked about how we could move forward in the sense of restoring the monuments that are out there in Poland, and that, of course, are legal. We have to do this. It is also the duty of our Polish friends and colleagues. And we also have to go ahead with the search works [joint exhumation-search operations to find the remains of the fallen Poles and Ukrainians in both countries] because it is important for everyone," said Klimkin.
"We, as politicians, should deal with the present and the future, and we should take responsibility for this, while our historians should work on the past, together. And whatever they find, we must recognize these facts honestly, with an open heart. I am ready, either alone or together with our Polish friends, to pay tribute to everyone, both Ukrainians and Poles, who died tragically in history, since this is our Christian duty," the diplomat emphasized.
"Therefore, we have agreed on how we could move forward. Now we will work more on this, and I very much hope that we can move on," Klimkin said.
Read alsoTop Polish diplomat says Crimea, Donbas main problem in relations with Russia
As UNIAN reported earlier, on February 22, Deputy Prime Minister, Ukraine's envoy to the joint Ukrainian-Polish Commission on historical issues, Pavlo Rozenko, said that Ukraine was asking Poland to restore the Ukrainian monuments destroyed on its territory, following the example of the Ukrainian side, which is investigating all acts of vandalism in respect of Polish monuments in Ukraine, and restores them.
Rozenko also said that the resumption of cooperation between Ukraine and Poland in the joint work to find the remains of the fallen Ukrainians and Poles depends on the decisions of Warsaw, including in the context of changing the law on the Institute of National Remembrance, which prohibits the "ideology of Ukrainian nationalists."
UNIAN memo. On April 26, 2017, Polish nationalists dismantled a monument to UPA [Ukrainian Insurgent Army] soldiers, which had already been destroyed by vandals in the village of Hruszowice. The members of Polish nationalist organizations dismantled the monument with the permission of local authorities as "illegally installed."
Later, the Ministry of Culture and National Heritage of Poland stated that the monument had been dismantled legally. At the same time, the Foreign Ministry of Ukraine called the act "provocation."