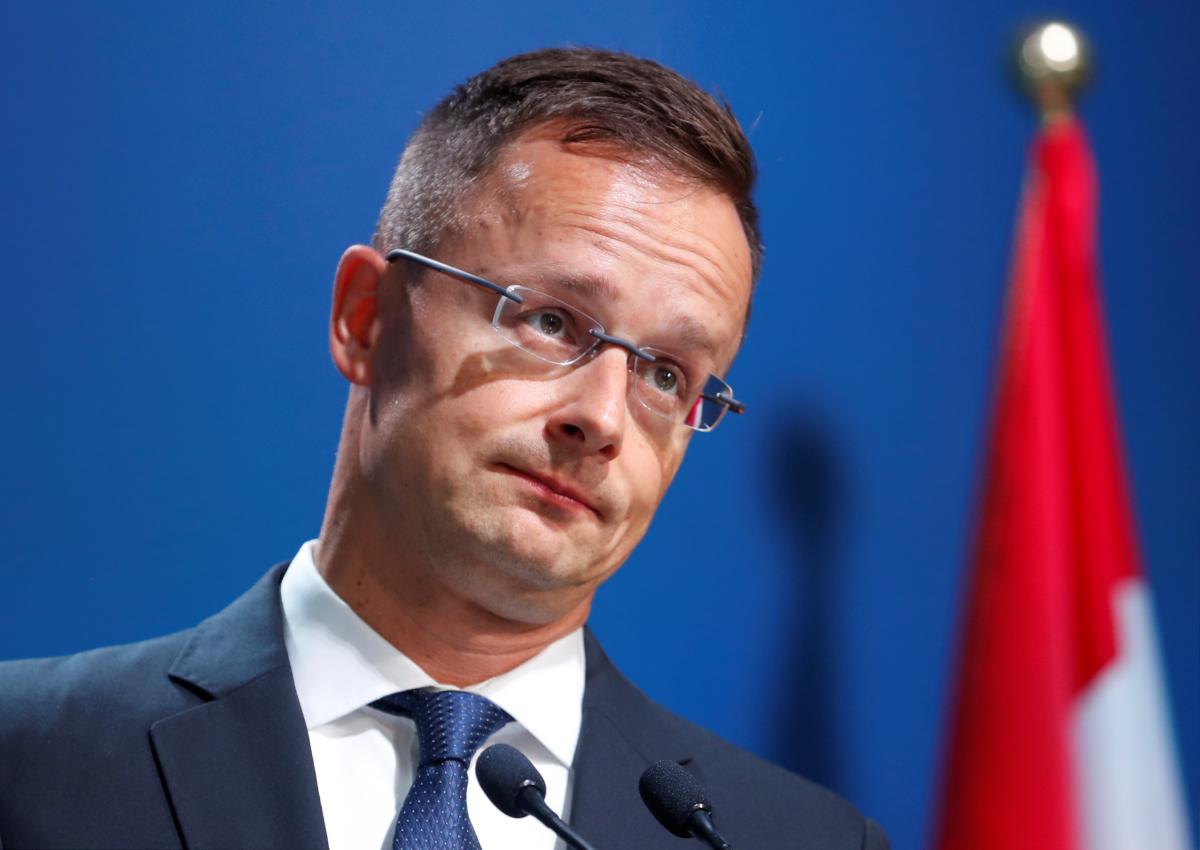 REUTERS
Hungarian foreign minister Péter Szijjártó told NATO Secretary-General Jens Stoltenberg of a significant worsening of the situation in his country's relations with Ukraine over the new education law in the context of the educational process for national minorities, according to the Hungarian government press service.
"The situation with relation to Ukraine has significantly worsened in view of the fact that nothing has happened with relation to amendment of the Education Act and the new Language Act, which strips national communities of their right to use their native language in culture, media and public administration, in addition to education, has also been adopted," Szijjártó told Hungarian reporters in Brussels on Thursday, following his meeting with Stoltenberg.
The minister stressed that Hungary regards it unacceptable that people who are citizens of NATO countries "are being placed on lists [of legislation violators] and investigations are being conducted against them using secret service methods."
Read alsoHungary escalating tensions with Ukraine, playing along with Russia – media
As the minister explained, he briefed the Secretary General concerning the fact that the petition collecting signatures for the deportation of Transcarpathian Hungarians was still up and active on the Ukrainian Parliament website Wednesday afternoon.
"It is clear that under such conditions we cannot approve the holding of a NATO-Ukraine council meeting during the next meeting of foreign ministers," he stated.
Szijjártó underlined that the matter of convening such a meeting depends solely on Ukraine, in view of the fact that the conditions that the Venice Commission put forward, and which have since been adopted by the European Union and NATO, "are not impossible."
As UNIAN reported, the head of the Hungarian Foreign Ministry said earlier that Budapest is offering Kyiv to conclude an agreement on the protection of national minorities. The agreement is to allow the free use of the native language of national minorities in religion, culture, education, and governance.
Read alsoMFA Ukraine to create "cross-border" post amid Hungary row
On October 13, Ukrainian Foreign Minister Pavlo Klimkin stressed that there was no way back regarding the law on education adopted by the Verkhovna Rada in 2017, while consultations with the Hungarian community of Zakarpattia should continue. He stressed that the goal of the law on education is not to assimilate the Hungarians, but to open up chances for self-realization of the Hungarian minority in Ukraine.
Ukraine-Hungary relations deteriorated after the adoption by the Ukrainian parliament of a new law on education.
Hungary has been blocking the meetings of the NATO-Ukraine Commission, alleging a violation of the rights of Hungarians living in Ukraine because of the law's provision stipulating that the language of instruction in educational facilities shall be the state language (Ukrainian).
In particular, Szijjártó demanded that Ukraine amend the education law and postpone its implementation until 2023, otherwise Budapest will block meetings important for Kyiv at the level of the European Union and NATO.