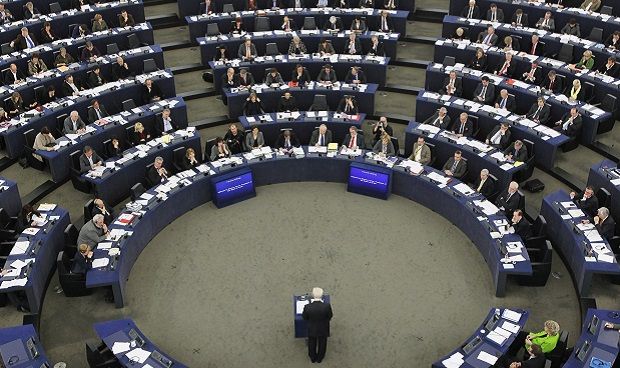 Photo from europarl.europa.eu
Such joint draft resolutions are usually adopted at a meeting of the European Parliament without amendments.
The document, against expectations, does not have a provision declaring the Donetsk People's Republic and Luhansk People's Republic militant organizations to be terrorist organizations, although some MEPs had be calling for this. However, there is a provision that recognizes that some of the militants are guilty of terrorism.
"[The European Parliament] condemns the acts of terrorism and criminal activity, committed by separatists and other armed groups in the east of Ukraine," the document says.
Separately the European Parliament also plans to condemn "the aggressive and expansionist policy of the Russian Federation," accusing Russia of "waging an undeclared hybrid war against Ukraine," and also "urges Moscow to immediately stop the escalation, including the delivery of arms, mercenaries and soldiers to Ukraine.
Sanctions are considered by the European Parliament as the European Union's main element of pressure on the Russian Federation. The European Parliament plans to urge the EU Council to extend the existing sanctions at the Council's meeting in March this year.
The European Parliament believes, according to the document, that even if the current situation does not change, sanctions should be strengthened.
In the case of new aggression of Russia against Ukraine, new sanctions should "cover the nuclear sector, and limit the possibilities of Russian entities to carry out international financial transactions (implying a freeze on Russian banks' access to the SWIFT payments system)."
The EU "must be ready to support the neighboring countries of Russia (in the case of there being counter sanctions),, the document says.
The European Parliament "stresses the need to establish a clear set of indicators, the implementation of which will prevent the strengthening of sanctions for Russia, as well as result in the removal of the existing ones."
The list of conditions for lifting of sanctions should envisage, according to the EU, the unconditional withdrawal of Russian forces and Russian-backed armed groups from Ukraine; the restoration of control by Ukraine over its entire territory, including the Crimea; and the exchange of all hostages, including Nadezhda Savchenko.
Voting on the document is scheduled for Thursday, while on Wednesday evening members of the European Parliament held a debate on the issue.
Photo from europarl.europa.eu