EU not to review sanctions until fulfillment of Minsk agreements, says Mogherini
The European Union's policy toward Moscow will not change as long as Russia fails to fulfill the Minsk agreements, EU High Representative on Foreign and Security Policy Frederica Mogherini said on Monday.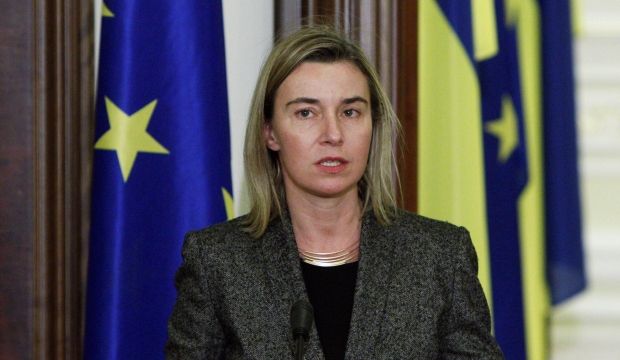 REUTERS
"Starting a strategic debate does not mean and has not meant changing the course of our relations with Russia - we stay the course, and we are united on this," Mogherini said at a press conference after the meeting of Foreign Affairs European Council in Brussels on Monday, UNIAN's Europe correspondent has reported.
"Those who were expecting divisions, major divisions today on Russia, I think will be a little bit disappointed, because we are united," Mogherini said.
"We were united and we are still united on this. Our relations with Russia can only change if and when – I hope when, but at the moment it is if – commitments that were taken [by Russia] in Minsk are implemented. The latest developments on the ground are definitely not encouraging, rather the opposite."
Mogerini said that EU support for Ukraine, as well as the union's eastern partners as a whole, would remain unchanged.
"Our pressure on Russia, with the sanctions policy, [remains] as I have stated it several times: any decision will be based on, first of all, a non-recognition policy of the [Russian] annexation of Crimea and on the full implementation of the Minsk agreements, on the situation on the ground.
"And again today, the situation on the ground is definitely much worse than in the previous few weeks."
According to Mogherini, the discussion that took place at the council was rather on what the EU "can add, and not on what it can change" in relations with Russia.
"What we can add – and what we agreed would be useful to add on our side – is on the one hand more diplomatic efforts, in any format, to contribute to solving the [Ukraine] crisis," she said.
"And on the other hand, [it would be useful to have] a political dialogue on global and regional issues, be it Syria or the Iranian talks on the nuclear issue, or the Middle East peace process and major global challenges like climate change and counter terrorism – [areas] where we do have an interest in having a political dialogue with Russia on global and regional issues."
In addition, there are also sectorial dialogues on energy and people-to-people contacts, Mogherini said.
"[But] there is no normalization; there is no back to business as usual in any way," she added.
Mogherini also said that the EU's foreign ministers would return to this issue in upcoming Foreign Affairs Council meetings.
If you see a spelling error on our site, select it and press Ctrl+Enter