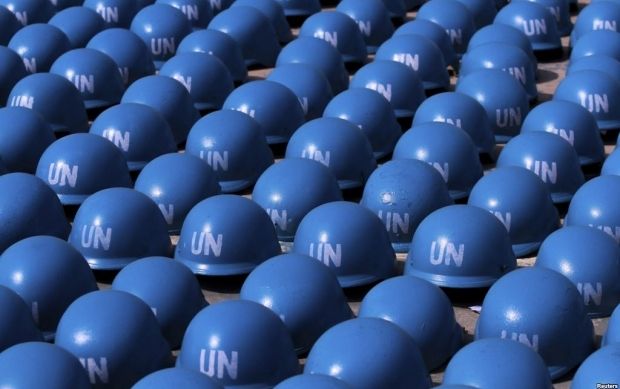 REUTERS
The talks of the Normandy Four at the level of political directors of the foreign ministries of Ukraine, Germany, France and Russia regarding the launch of a peacekeeping mission in Donbas, eastern Ukraine, will be held in Berlin, Germany, on November 26.
"The next round of consultations of the Normandy Four at the level of political directors will take place in Berlin on November 26. Political Director of the Ukrainian Foreign Ministry Oleksii Makeiev will represent Ukraine at the consultations," the press service of the Ukrainian Foreign Ministry told UNIAN.
Read alsoMerkel: UN peacekeeping mission should be created to achieve peace in Donbas
In pursuance of the instructions of the Normandy Four foreign ministers following a ministerial meeting on June 11, the political directors will focus on further discussion of the launch of a peacekeeping operation in Donbas.
"Guided by the interests of restoring peace in Donbas and ensuring the safety of civilians, Ukraine, together with its partners, proceeds from the need to deploy a full-scale mission throughout the occupied territory of Donbas, including the uncontrolled section of the Russian-Ukrainian state border," the ministry said.
As UNIAN reported earlier, following the meeting of the Normandy Four foreign ministers in Berlin on June 11, Ukraine's Foreign Minister Pavlo Klimkin expressed the position that the UN peacekeeping forces should receive a real mandate to disarm illegal armed groups and search for concealed heavy weapons throughout Russian-occupied Donbas. In his opinion, the powers of peacekeepers should not be limited only to escorting the OSCE Special Monitoring Mission to Ukraine.
Klimkin said on September 26 that Ukraine, the United States, Germany and France had long ago prepared a joint draft resolution of the UN Security Council on the deployment of peacekeeping forces to Donbas. According to him, the countries will submit this resolution for consideration by the UN Security Council. "We will submit the joint resolution. When are we going to do this? This will be a resolution on behalf of all of us. To make this, we need to continue putting pressure on Russia, because it is now trying to block any real peacekeeping operation in every way possible," Klimkin said.