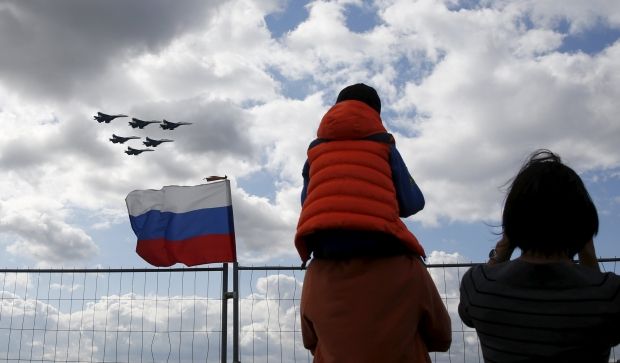 REUTERS
Ukraine has banned entry to all male Russian nationals aged 16-60 for the entire period of martial law, according to Head of the Border Guard Service of Ukraine Petro Tsyhykal.
The entry of "male Russian nationals aged 16-60 has been banned," Tsyhykal said at a meeting on strengthening Ukraine's defense capacities, attended by President Petro Poroshenko, an UNIAN correspondent reported.
There will be exceptions for humanitarian purposes, such as family visits on the occasion of a funeral ceremony. Tsyhykal said that the border guard agency had been put on top combat readiness, while border squads deployed along the border with Russia and the de-facto border with the illegally annexed Crimea were strengthened.
"As for the citizens of Ukraine, there are no restrictions," Tsyhykal said.
Read alsoParliament green-lights martial law in Ukraine: 30-day period in certain districts
Ukrainian President Petro Poroshenko asked whether these were "measures that prevent the Russian Federation from forming detachments of private armies here, which are in fact representatives of the Armed Forces of the Russian Federation, and to not allow them carrying out operations they tried to implement in 2014." Tsyhykal nodded affirmatively.
"That is, once again: the restriction applies to males aged 16-60, except for humanitarian cases, which will be clearly written out in the instructions," Poroshenko stressed.
"And I would tighten registration requirements for citizens of the Russian Federation in areas where the martial law was imposed. I am asking you to submit proposals within 24 hours," the president said.