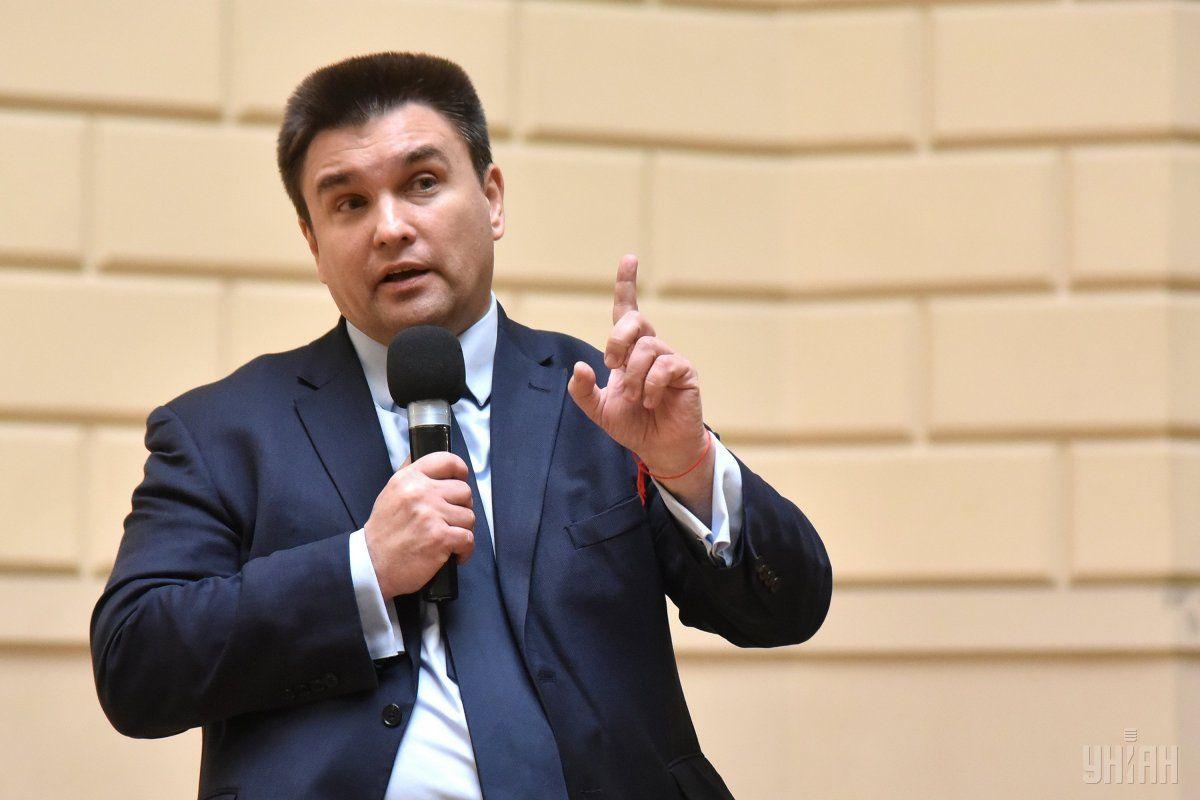 Photo from UNIAN
Ukrainian Foreign Minister Pavlo Klimkin said that Kyiv will firmly defend its interests in the row with Hungary, at the same time doing everything to help the Hungarian community in Ukraine.
Speaking with journalists following a Tuesday meeting of NATO foreign ministers with top diplomats from Ukraine and Georgia in Brussels, Klimkin noted that he would hold a meeting with his Hungarian counterpart Peter Szijjarto at the OSCE ministerial summit in Milan, according to an UNIAN correspondent.
"After consultations held this week – both comprehensive consular consultations and economic consultations – we are on an upward trajectory, there are serious questions to be further discussed. But we understand what can be done; our Hungarian colleagues understood that we have a consistent position: on the one hand, we will firmly defend our interests, and on the other, we will do everything to help our Hungarian community," the minister said.
Klimkin expressed his conviction that the discussion with the Hungarian side was very productive, and noted that on Dec 6, he would tell about the results of the negotiations after meeting with Hungarian foreign minister Peter Szijjarto in Milan.
Read alsoKlimkin predicts thaw in relations with Hungary in near future
"But even today, when speaking during the ministerial meeting, he [Szijjarto] also expressed hope that we will have further steps and real progress," Klimkin said.
As UNIAN reported earlier, relations between Ukraine and Hungary deteriorated after the Verkhovna Rada adopted a new law on education in 2017.
Hungary has been blocking Ukraine-NATO Commission meetings, alleging that the language provision of the law on education, which stipulates that the national language is the language of the educational process in educational institutions violate the rights of Hungarians living in Ukraine.
The Hungarian Foreign Minister demanded that Ukraine amend the law on education and postpone its implementation until 2023, otherwise Budapest will block important meetings for Ukraine at the level of the European Union and NATO
Read alsoIssues with Hungary should not affect UA cooperation with NATO, EU - Poland
In addition, after the situation with the secret distribution of Hungarian passports to Ukrainians in Zakarpattia region, Ukrainian Foreign Minister Pavlo Klimkin said that Ukraine could expel the Hungarian Consul in Berehove and would continue implementing the pro-Ukrainian policy in the region. In turn, Szijjártó threatened to resort to new measures to hinder the European and Euro-Atlantic integration of Ukraine.
On October 4, the Hungarian Consul in the town of Berehove was declared persona non grata. He had to leave the territory of Ukraine within the following 72 hours. In a retaliation move, Hungary announced the expulsion of the Ukrainian Consul in Budapest.
Hungarian Prime Minister Viktor Orbán on November 15 echoed Vladimir Putin in claiming that it was impossible to reach an agreement with today's leadership of Ukraine. He expressed hope that following presidential elections scheduled for 2019, it will be easier for Budapest to come to terms with Ukraine leaders.