Ukrainian parliament declares Russia aggressor state
The Ukrainian parliament, the Verkhovna Rada, has passed a resolution declaring Russia to be an aggressor state and the self-proclaimed Donetsk and Luhansk People's Republics to be terrorist organizations.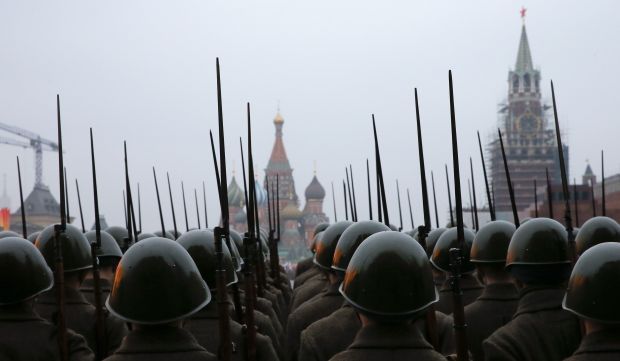 REUTERS
According to an UNIAN correspondent, 271 deputies out of 298 registered in the session hall on Tuesday voted for the resolution. None of the deputies from the opposition bloc voted in favor of the resolution.
According to the resolution, the Verkhovna Rada declares the Russian Federation to be an aggressor state, and encourages the international partners of Ukraine to hold Russia to account for crimes against humanity committed since the beginning of its aggression against Ukraine.
"It is necessary to declare the Russian Federation to be an aggressor state that has fully supported terrorism and blocked the activities of the UN Security Council, putting international peace and security at threat," the Head of Ukraine's parliamentary committee on foreign affairs Anna Gopko said, quoting the text of the resolution.
The resolution emphasizes the need to increase pressure on the Russian Federation, including through the introduction of new sectoral restrictive measures and sanctions designed to stop Russian aggression and force the Russian government to implement in full all points of the Minsk peace agreements.
In addition, the resolution calls for the ending of the illegal occupation of Crimea, and the release all the hostages and Ukrainian citizens illegally detained in the Russian Federation, including the Ukrainian MP Nadezhda Savchenko.
"It is necessary to limit the authorities of the Russian delegation to the Parliamentary Assembly of the Council of Europe while Russia ignores the demands of the international democratic community," Gopko said.
The resolution also refers to the need for the international community to provide military assistance to Ukraine required to strengthen its defensive capabilities, humanitarian assistance to its civilian population and internally displaced persons affected by the conflict, and help in restoration of critical infrastructure in the Donbas.
The Ukrainian parliament also called on the international community to recognize the fact that Russia is guilt of aggression against Ukraine, and that it has occupied Ukrainian territory, to strengthen their demands regarding restoration of Ukraine's internationally recognized borders, and to prevent the creation of a dangerous precedent in the form of gross violations of the international security order put in place after the Second World War.
If you see a spelling error on our site, select it and press Ctrl+Enter