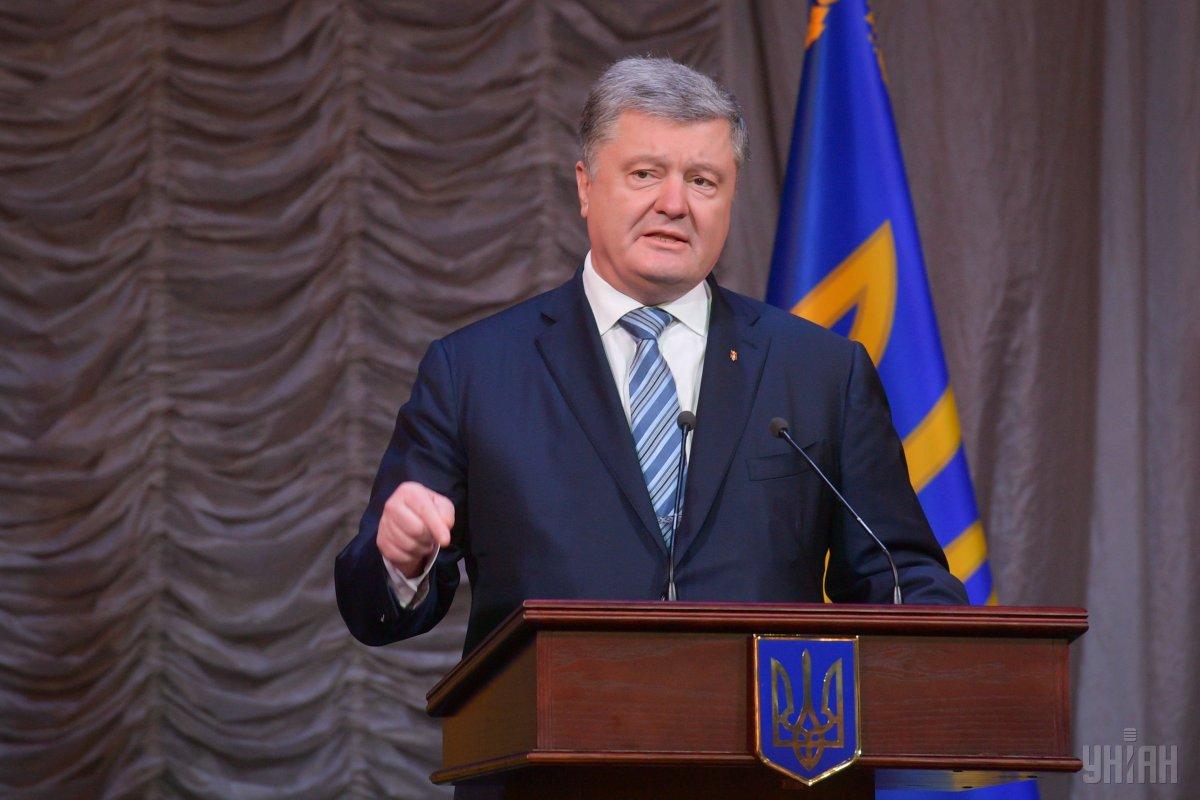 Photo from UNIAN
Ukrainian President Petro Poroshenko says Russia is fully responsible for the violation of human rights in certain areas of Donetsk and Luhansk regions and the temporarily occupied territory of Crimea.
In his address to the Ukrainian people on International Human Rights Day, he recalled that today the world celebrates the 70th anniversary of the adoption of the Universal Declaration of Human Rights by the United Nations General Assembly.
"It is significant that the mentioned document was signed when humanity, after going through the horrors of World War II, understood that it was time to legally reinforce the thesis that life, equality and freedom of people are the greatest values," Poroshenko stressed.
"Whereas disregard and contempt for human rights have resulted in barbarous acts which have outraged the conscience of mankind, and the advent of a world in which human beings shall enjoy freedom of speech and belief and freedom from fear and want has been proclaimed as the highest aspiration of the common people," Poroshenko quotes the preamble of the Universal Declaration of Human Rights.
Read alsoICC studying reports on war crimes in Crimea
According to the president, for Ukrainians, as for all citizens of the countries of the free world, this document is fundamental and its main postulates are laid down in the Constitution of Ukraine.
"Unfortunately, I have to once again emphasize on such a landmark day that due to the impudent aggression of the Russian Federation, the rights of our fellow citizens in Donbas and in Crimea are actually negated," Poroshenko stressed and added that it is Russia that now neglects the main value of humanity – the human right to life.
According to the president, this is evidenced by terrible proven facts and sad statistics. Since the beginning of the Russian armed aggression against Ukraine, according to the UN, over 10,000 people have been killed and over 23,000 have been injured.
In addition, more than 1.5 million residents of Crimea and Donbas were forced to leave their homes as internally displaced persons.
"It is Russia that bears full responsibility for the violation of human rights in the occupied territories. This is stated in most international documents adopted by authoritative international organizations, in particular, such as the United Nations, the Organization for Security and Cooperation in Europe, the Parliamentary Assembly of the Council of Europe and others," he said.
Poroshenko noted that state authorities and an active civil society would continue to collect evidence of the Russian crimes against Ukraine and its fellow citizens that will further complement the evidence base in The Hague.