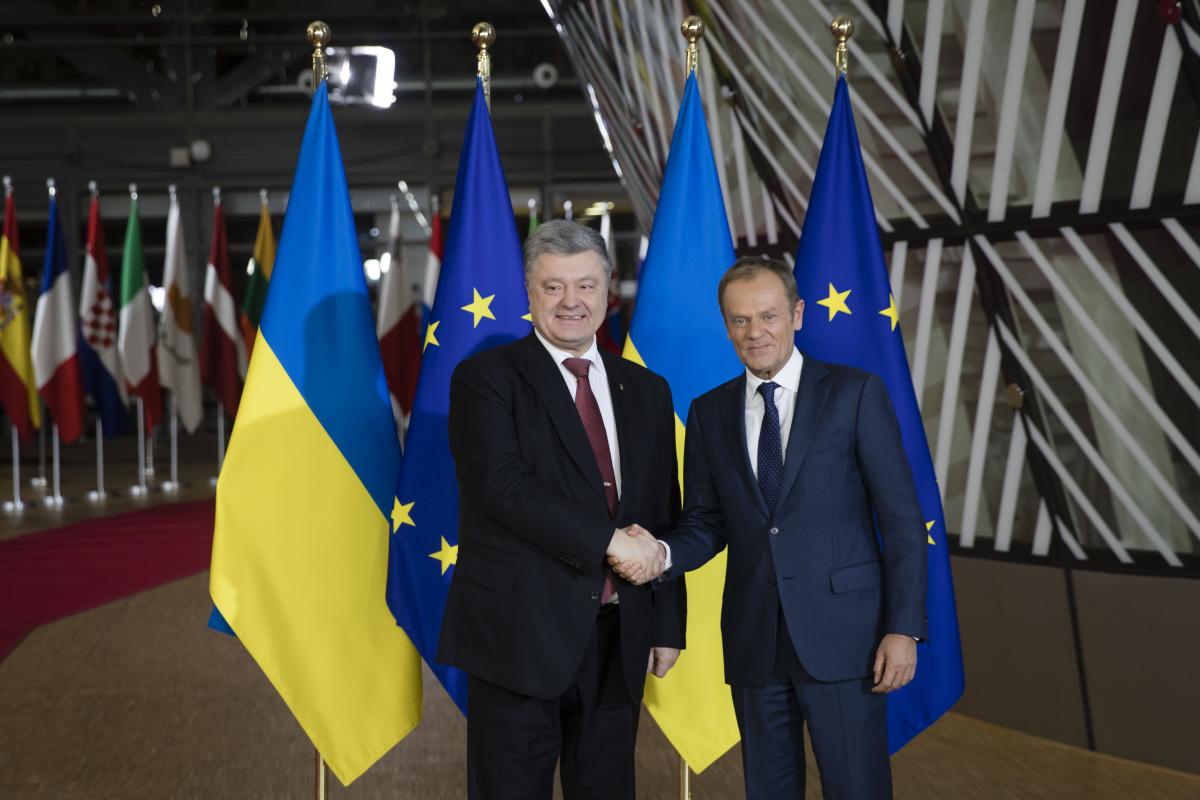 Poroshenko and Tusk in Brussels / Photo from president.gov.ua
Ukrainian President Petro Poroshenko has given President of the European Council Donald Tusk the lists of citizens and ships of Russia involved in an attack on three Ukrainian navy vessels in the Kerch Strait on November 25.
Poroshenko met with Tusk in Brussels on Wednesday, December 12, to tell him about the consequences of the act of Russia's open aggression in the Kerch Strait and existing threats to regional security, the Ukrainian president's press service said.
Read alsoMEPs commend Ukraine's reform efforts and denounce Russian aggression
Poroshenko stressed the need for a powerful and adequate response from the EU to Russia's aggression against Ukraine committed on November 25 to counteract the Kremlin's strategy of "creeping occupation" of the Sea of Azov and the Kerch Strait.
The Ukrainian president called on the EU leaders to condemn the aggressive actions of Russia, demand the restoration of freedom of navigation, the immediate and unconditional release of 24 seized sailors and three ships.
Poroshenko also stressed the importance of strengthening the European Union's assistance to the social and economic development of the Ukrainian Azov region, which suffers from a targeted blockade by the Russian Federation. To this end, the president handed over a list of humanitarian and infrastructure projects that could be supported by European partners.
As UNIAN reported earlier, on the morning of November 25, Russia blocked the passage to the Kerch Strait for the Ukrainian tugboat "Yany Kapu" and two armored naval boats "Berdyansk" and "Nikopol," which were on a scheduled re-deployment from the Black Sea port of Odesa to the Azov Sea port of Mariupol. The Ukraine Navy Command noted that the Russian side had been informed of the plans to re-deploy the vessels in advance in accordance with international standards to ensure the safety of navigation. The Russian coast guard ship "Don" rammed the Ukrainian tugboat, damaging the Ukrainian vessel. As the Ukrainian boats were heading back in the Odesa direction after being rejected passage via the Kerch Strait, Russian coast guards opened aimed fire on them. All 24 crew members on board were captured and later remanded in custody for two months, being charged with "illegal border crossing" (the sailors are facing up to six years in prison). Three crewmen were wounded in the attack. Russian-controlled "courts" in occupied Crimea ruled that all 24 detainees should be remanded in custody, after which they were transferred to the Moscow-based Lefortovo and Matrosskaya Tishina detention centers.