Talks in Minsk on Donbas 'to be held Friday or Saturday'
A meeting of the tripartite contact group on the situation in the Donbas may be held on Friday or Saturday, according to preliminary agreements, Ukrainian Deputy Foreign Minister Olena Zerkal said at a press conference in Kyiv on Friday.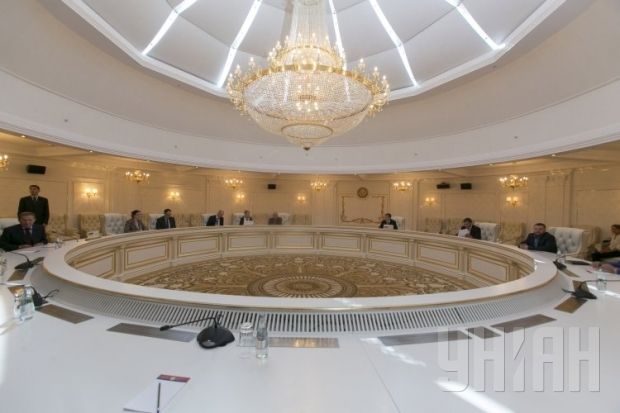 UNIAN
According to Zerkal, work is being done now on the harmonization of the document that is to be the basis for the implementation of the Minsk agreements, which envisages the withdrawal of weapons and equipment.
She said that the Ukrianian Foreign Ministry was ready for the meeting of the tripartite contact group.
As UNIAN reported earlier, Thursday, Ukrainian President Petro Poroshenko met with members of the contact group - Special Representative of the OSCE Chairman Ambassador Heidi Tagliavini, Ambassador of the Russian Federation in Ukraine Mikhail Zurabov and Second President of Ukraine Leonid Kuchma (1994-2005.)
The president called on the participants of the group to urgently consult with the signatories of the Minsk agreements, the practical result of which should be a decision on an immediate ceasefire and the withdrawal of heavy weapons from the contact line fixed in the Minsk memorandum of September 19, 2014.
He also said Ukraine should restore its control of the Ukrainian-Russian border in Donetsk and Luhansk regions, and continuous monitoring of the border be started by the OSCE.
He said the group should discuss how to supply essential goods and humanitarian assistance to the areas of Ukraine's Donetsk and Luhansk regions where militants have seized control from the local authorities, and said he hoped for significant progress in the release of hostages and illegally detained persons.
On the same day, according to Russian media, two of the leaders of the Donetsk and Luhansk Peoples' Republics militant organizations, Denis Pushilin and Vladislav Deinego, said they would take part in the meeting of the contact group in Minsk.
If you see a spelling error on our site, select it and press Ctrl+Enter