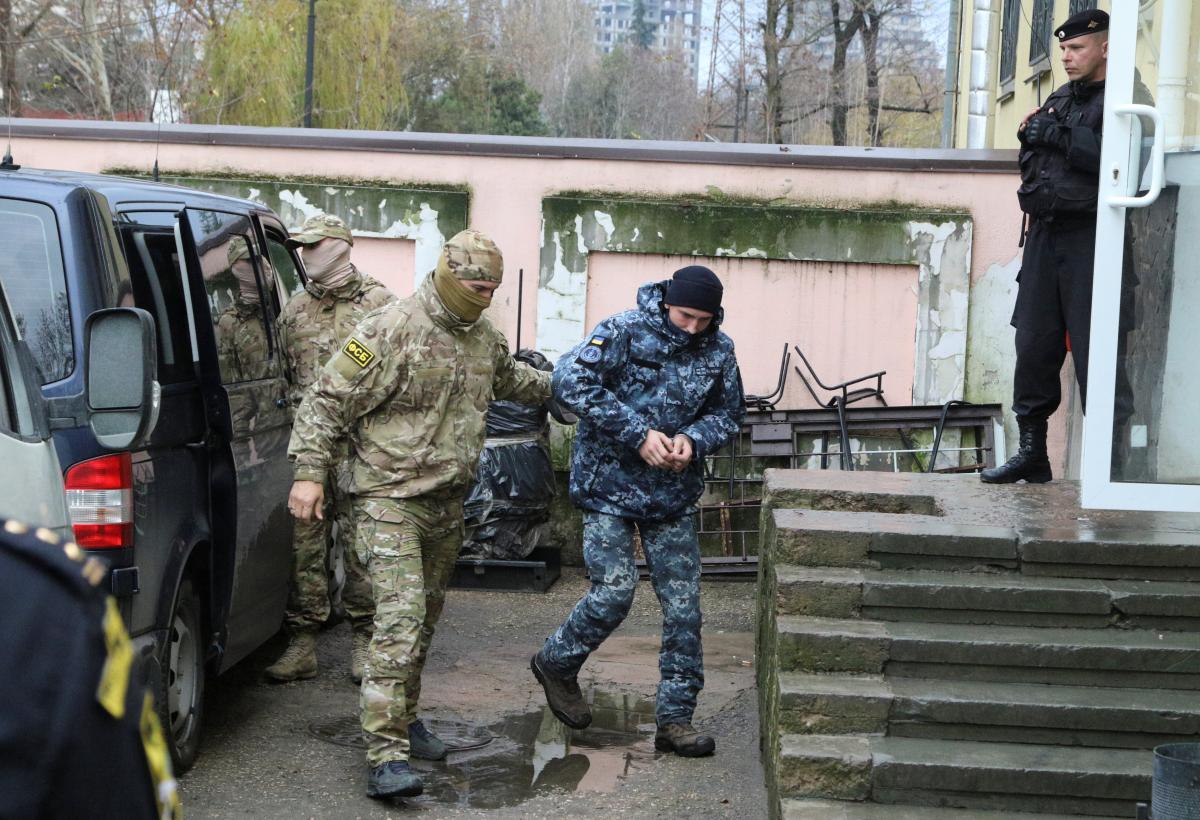 REUTERS
The so-called "Supreme" Court of Russian-occupied Crimea on Wednesday declined to free five out of 24 captive Ukrainian Navy members whose appeals it had been considering.
The "appeals court" upheld the ruling of Simferopol's Kyivsky District Court and clarified the date when the arrest ends, as there was a technical error made by the court of first instance, and their imprisonment expires on January 24, 2019, rather than January 25, the Russian news agency RIA Novosti said.
The sailors whose appeals were considered are two captains: Petty Officer 1st Class Oleh Melnychuk of the Yany Kapu tugboat and 1st Lt. Bohdan Nebylytsia of the Nikopol armored boat.
The remaining are 2nd rank captain Denys Hrytsenko, senior seaman Yuriy Bezyazychny and seaman Yevhen Semydotsky. The appeals of their lawyers were the last complaints that came to the "supreme" court from the defense of the Ukrainian sailors, a representative of the "Supreme Court" of Crimea said.
Nebylytsia's lawyer Emil Kurbedinov said the lawyers were going to appeal to the European Court of Human Rights.
Read alsoUkrainian tug commander refuses to testify, tells Russian investigators he's war prisoner
The sailors are now being held at Moscow's Lefortovo detention facility and participated in the hearing by video link. They consider themselves prisoners of war.
On November 25, Russia blocked the passage to the Kerch Strait for the Ukrainian tugboat "Yany Kapu" and two armored naval boats "Berdyansk" and "Nikopol," which were on a scheduled re-deployment from the Black Sea port of Odesa to the Azov Sea port of Mariupol. The Ukraine Navy Command noted that the Russian side had been informed of the plans to re-deploy the vessels in advance in accordance with international standards to ensure the safety of navigation. The Russian coast guard ship "Don" rammed the Ukrainian tugboat, damaging the Ukrainian vessel. As the Ukrainian boats were heading back in the Odesa direction after being rejected passage via the Kerch Strait, Russian coast guards opened aimed fire on them. All 24 crew members on board were captured and later remanded in custody for two months, being charged with "illegal border crossing" (the sailors are facing up to six years in prison). Three crewmen were wounded in the attack. Russian-controlled "courts" in occupied Crimea ruled that all 24 detainees should be remanded in custody, after which they were transferred to the Moscow-based Lefortovo and Matrosskaya Tishina detention centers.