Media: Poroshenko threatened to reveal Russian soldiers' involvement in conflict at Minsk meeting with Putin
Ukrainian President Petro Poroshenko warned Russian President Vladimir Putin at the end of August last year that Ukraine might publish information on hundreds of Russian soldiers that were killed or captured in Ukraine.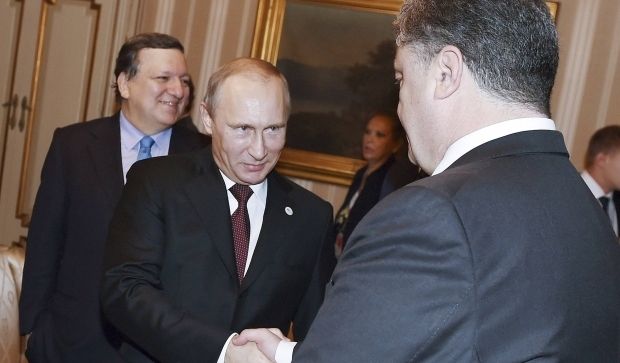 REUTERS
At a meeting in Minsk, Putin denied the presence of Russian troops in Ukraine, while Poroshenko urged the Russian leader to accept a ceasefire. Putin then said his country had 1.2 million soldiers at its disposal and that in two days they could take over Kyiv and any capital of the EU and NATO, according to the sources of UK newspaper the Financial Times, Russian newspaper Vedomosti has reported.
At that time agreement on a ceasefire was achieved, and for the sake of peace Poroshenko was even willing to revise tariffs on numerous trade items within the economic part of the Association Agreement with the EU, yielding to Russian demands. But the idea was opposed by European Commission President Jose Manuel Barroso, and as a compromise, it was decided to postpone the entering into force of the economic part of the agreement with Ukraine.
Financial Times sources say that the meeting was held in Minsk on August 26 at the request of the Ukrainian side. Poroshenko was anxious that if there was no peace or victory, he would "lose his post in two days" one Western diplomat stated.
Therefore Poroshenko called Putin and said that if fighting continued, Kyiv would make public information showing the dog tags of Russian soldiers, and would get in contact with mothers and wives of Russian soldiers fighting in Ukraine.
Russian officials did not confirm the reports. 
If you see a spelling error on our site, select it and press Ctrl+Enter