Stoltenberg to call on Lavrov to pressure militants into ceasefire
NATO is calling on Russia to respect international law and to pressure the militants in eastern Ukraine to agree to a ceasefire, NATO Secretary General Jens Stoltenberg said at a press conference during a meeting of NATO defense ministers in Brussels on Thursday, according to an UNIAN correspondent in Brussels.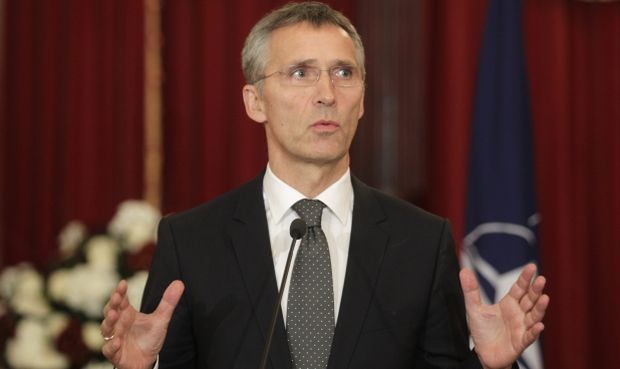 REUTERS
As reported earlier, Stoltenberg is planning to meet with Lavrov during the Munich Security Conference, which will run from February 6-8 this year.
"I would like to repeat the position of NATO. We call on Russia to respect international law and to do everything possible to influence the separatists in order [that they] respect the ceasefire. It is important to continue to focus on this," Stoltenberg said.
Asked whether Russia still had an influence on the separatists, Stoltenberg said that there had been a substantial increase in the amount of heavy militaty equipment in the east of Ukraine, which he said was provided by Russia.
"We have seen the training of Russian armed forces, and we have seen Russian forces in Ukraine. I can't tell you the exact numbers, but this undermines the Minsk Protocol and allows the separatists to attack the positions of the Ukrainian armed forces [in the way] that we have seen in recent days and weeks," he said.
As UNIAN reported earlier, Russia annexed the Ukrainian territory of Crimea in March after invading the peninsula with its troops, and then began to destabilize the situation in the Donbas. Later, the self-proclaimed Donetsk and Luhansk People's Republics were created, with the direct participation of Russian special forces and the support of Russian army in the Donbas, according to Ukraine.
A growing body of evidence shows Russia also supplies weapons to the militants of the DPR and LPR and sends mercenaries and its regular troops to fight in the Donbas.
The European Union, the United States, Canada, Japan, Australia and several other countries imposed sanctions against Russia because of its annexation of the Ukrainian territory of Crimea and its destabilization of eastern Ukraine.
If you see a spelling error on our site, select it and press Ctrl+Enter