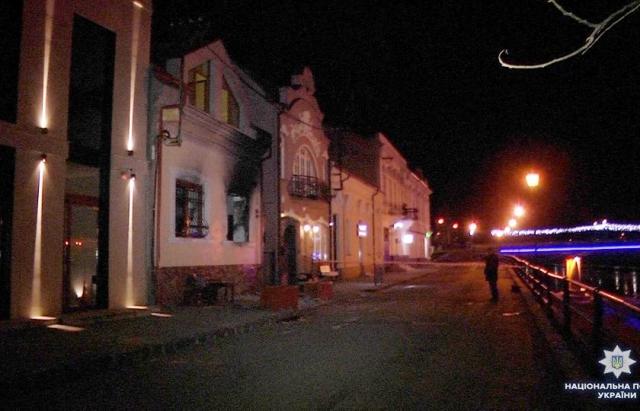 Ukraine Police
A Polish man accused of involvement in the firebombing of a Hungarian cultural center in western Ukraine last year says he received instructions on the attack from a German journalist who has worked as a consultant for a German parliament deputy with the Russia-supported Alternative for Germany (AfD) party.
Michal Prokopowicz, 28, told a Krakow court on January 14 that German journalist Manuel Ochsenreiter provided instructions for the February 4, 2018, attack on the headquarters of the Hungarian Cultural Association in Uzhgorod, the capital of the Zakarpattya region in western Ukraine, according to RFE/RL.
A representative for Ochsenreiter called the claim "false."
Read alsoRussia's covert campaign underway to inflame East Europe - media
No one was injured in the attack, but the incident -- and another fire attack on the building weeks later -- exacerbated already strained relations between Kyiv and Budapest over a Ukrainian education law that Hungary claims limits the right of ethnic Hungarians in Ukraine to be educated in their native language.
Prokopowicz is one of three Polish suspects with links to far-right movements who went on trial in Krakow on January 14 for the attack. Ukrainian authorities investigated the case and passed it along to their counterparts in Poland, where the three men were subsequently detained.
Read alsoThree Poles on trial for attacking Hungarian center in Uzhgorod
Ochsenreiter, 42, has ties to Polish right-wing activists, including Mateusz Piskorski, founder of the pro-Russian Change (Zmiana) party who was arrested in 2016 on suspicion of spying for Russia and China.
Ochsenreiter, editor of the right-wing German magazine Zuerst! (First!), has been a frequent commentator in Russian state media over the past five years, voicing support for Russia-backed separatists in eastern Ukraine and denouncing what he calls the Western media's anti-Moscow bias.
He has also worked in recent months as a consultant for Markus Frohnmaier, a member of Germany's parliament, the Bundestag, from the AfD and a strong proponent of lifting EU sanctions imposed on Russia over its aggression in Ukraine. Frohnmaier did not immediately respond to a request for comment on January 14.
Read alsoUkraine on arson attack on Hungarian culture center: "Inciting hatred"
Following the February 4 attack and a second firebombing of the Hungarian cultural center with Molotov cocktails three weeks later, Ukrainian Foreign Minister Pavlo Klimkin suggested that Russia was behind both incidents.
Prokopowicz said in court that the goal was to frame Ukrainian ultranationalists for the February 4 attack by painting Nazi-related symbols on the façade of the Hungarian cultural center.