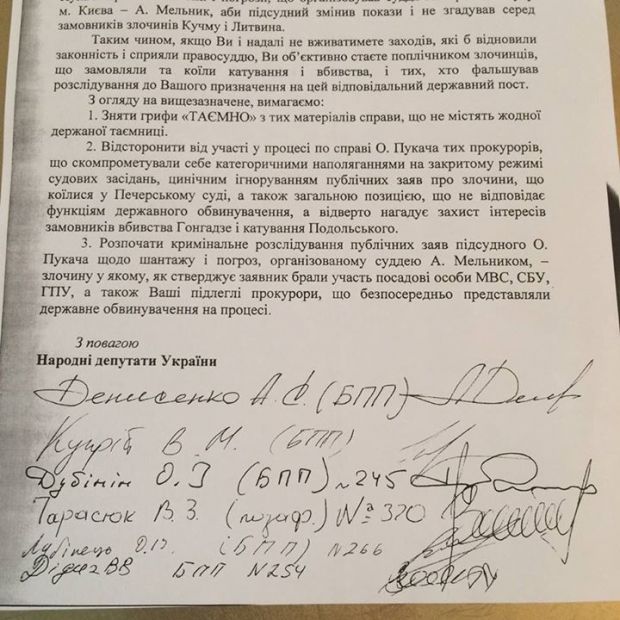 Photo from Andriy Denisenko's Facebook page
This was announced at a press conference in UNIAN by a plaintiff in the Gongadze case, journalist Oleksiy Podolsky, who noted that the appeal has been under the consideration of the Kyiv Court of Appeals for more than a year.
According to him, in their appeal, the deputies said that former Prosecutor General Viktor Pshonka illegally kept secret all the files of the indictment, as well as investigation materials in the Pukach case in the interests of former Ukrainian President Leonid Kuchma.
"This was done at the last minute - a few days, hours before the trial - in order to hide from the eyes of Ukraine and the international community the truth about the abuse of the justice system by the political leadership of the state," the statement reads.
The MPs said that during the investigation, as well as at the stage of familiarization with the investigation materials of the victims and the accused, the case had only a few secret parts that were justified in being classified as state secrets. However, all of the materials of the case were kept secret.
"Taking arbitrary decisions, Pshonka resorted to a shameful measure: marking each page of the case as "Secret," even newspaper articles, millions of copies of which had been sold in Ukraine," the MPs said.
The authors of the appeal said that after Vitaliy Yarema was appointed Prosecutor General the "Secret" stamps remained on the files, which should not have happened. 
"Your employees that represent the state prosecution categorically insist on closed appeal proceedings," the deputy said, addressing the prosecutor general.
The MPs demand the removal of "Secret" stamps from case materials that do not contain any state secrets, to exclude from participation in Pukach's trial those prosecutors who "compromised themselves by insisting categorically on closed hearings, with cynical disregard for public statements about the crimes that took place in Pechersk Court, as well as by taking a common position that does not correspond to the functions of public prosecution, certifying the efforts to protect the interests of a person who ordered Gongadze's murder and the torturing of Podolsky."
In addition, the deputies also demanded the start of a criminal investigation into public statements of Pukach regarding blackmail and threats allegedly made by a judge of Pechersk District Court of Kyiv, Andriy Melnyk.
The deputies' appeal was signed by five deputies from the Bloc of Petro Poroshenko faction in parliament - Andriy Denisenko, Vitaliy Kupriy, Olexander Dubinin, Valentyn Didych, Dmytro Lubinets and independent deputy Volodymyr Parasiuk.
As reported by a press conference participant,  Deputy Prosecutor General Oleksiy Bahanets promised to support their initiative.