Merkel and Hollande 'not neutral intermediaries in Donbas conflict'
It is impossible to resolve the conflict in Ukraine by military means, German Chancellor Angela Merkel said today before the talks with Russian President Vladimir Putin in Moscow together with French President François Hollande, according to the Polish news agency PAP.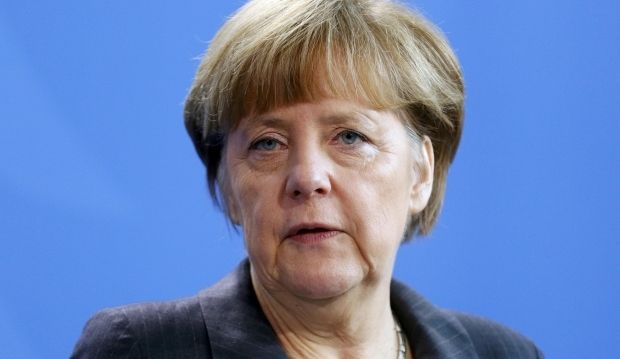 REUTERS
"We believe that this conflict has no military solution," Merkel said.
"I and Hollande are not neutral intermediaries," she said.
"The thing is that we should take into account our interests - German, French and, first of all, European ones. We are talking about the peace, the European way of life and the right of peoples to self-determination," she said.
"I do not know whether the talks in Moscow will be long or short, or the last ones," she said.
The chancellor also promised to make every effort to stop the bloodshed in Ukraine.
As UNIAN reported earlier, Russia annexed the Ukrainian territory of Crimea in March after invading the peninsula with its troops, and then began to destabilize the situation in the Donbas. Later, the self-proclaimed Donetsk and Luhansk People's Republics were created, with the direct participation of Russian special forces and the support of Russian army in the Donbas, according to Ukraine.
A growing body of evidence shows Russia also supplies weapons to the militants of the DPR and LPR and sends mercenaries and its regular troops to fight in the Donbas.
According to the UN, nearly 6,000 people have been killed and more than 10,000 wounded during this war. Over one million people have been forced to leave their homes by the fighting.
The European Union, the United States, Canada, Japan, Australia and several other countries imposed sanctions against Russia because of its annexation of the Ukrainian territory of Crimea and its destabilization of eastern Ukraine.
Despite the sanctions, Moscow is not stopping the war, sending its regular troops to the Donbas, according to NATO and the Ukrainian government. Russia denies sending in its troops, but has admitted that some Russian soldiers might be fighting on the side of the militants while "on holiday."
As reported earlier, on February 5, 2015 German Chancellor Angela Merkel and French President François Hollande arrived urgently in Ukraine. U.S. Secretary of State John Kerry visited Kyiv the same day.
Hollande and Merkel are planning to visit Moscow on Friday evening, where they will hold talks with Russian President Vladimir Putin.
According to the press service of the President of Ukraine, the talks between Poroshenko, Merkel and Hollande lasted five hours. During the negotiations, the parties developed joint proposals to implement the Minsk agreements.
If you see a spelling error on our site, select it and press Ctrl+Enter