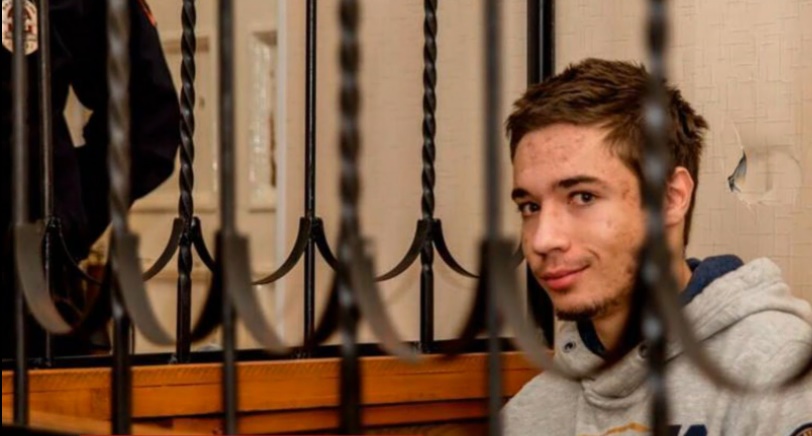 Pavlo Hryb has been diagnosed with a number of serious diseases / Screenshot
Human Rights Commissioner of the Verkhovna Rada, Ukraine's parliament, Liudmyla Denisova says Ukrainian citizen Pavlo Hryb, who is illegally imprisoned in the Russian Federation, needs urgent medical care.
"Twenty-year-old Pavlo has been diagnosed with a number of serious diseases, and he needs urgent medical care," she wrote on Facebook on January 21.
Read alsoEU urges Russia to immediately release Ukrainian sailors, Pavlo Hryb, Edem Bekirov, other political prisoners
She also said she was concerned over the gross violation of the rights and freedoms of the Ukrainian political prisoner, who is being kept in a Rostov-based detention center.
"In addition, according to the young man, he suffered from physical violence. Russian law enforcement officers beat him during detention – they demanded he admit guilt. The abuse of Pavlo also continued during his transportation to a pretrial detention center in Rostov-on-Don," she said.
"I'm appealing to Mykola Gnatovskyy, the president of the European Committee for the Prevention of Torture and Inhuman or Degrading Treatment or Punishment (CPT), asking him to intervene in the situation around Ukrainian political prisoner Pavlo Hryb," she said.
As UNIAN reported earlier, Pavlo Hryb was abducted from Belarus by the Russian FSB security force in August 2017, and consequently illegally arrested in the Russian Federation. Trumped-up charges were pressed against the young man under Article 205 of the Criminal Code of the Russian Federation (an act of terrorism). Russian investigators accused Hryb of allegedly plotting a terrorist attack at a school assembly in Sochi. Hryb is diagnosed with portal hypertension, which requires daily intake of necessary medications and a special diet, the lack of which could become fatal. Russian authorities do not let Ukrainian doctors examine the political prisoner's health.
On November 7, 2018, the North Caucasian district military court ruled on the extension of Hryb's detention term for another six months.
On December 12, 2018, Hryb's condition worsened in the courtroom. Emergency doctors who responded to the call said he needed health checks. The court hearings were postponed until December 21, 2018, but the examination of his health has never been conducted. On December 22, 2018, his lawyer Marina Dubrovina said Pavlo's condition was deteriorating – the boy was almost blind, poorly oriented, he started to suffer from memory loss.