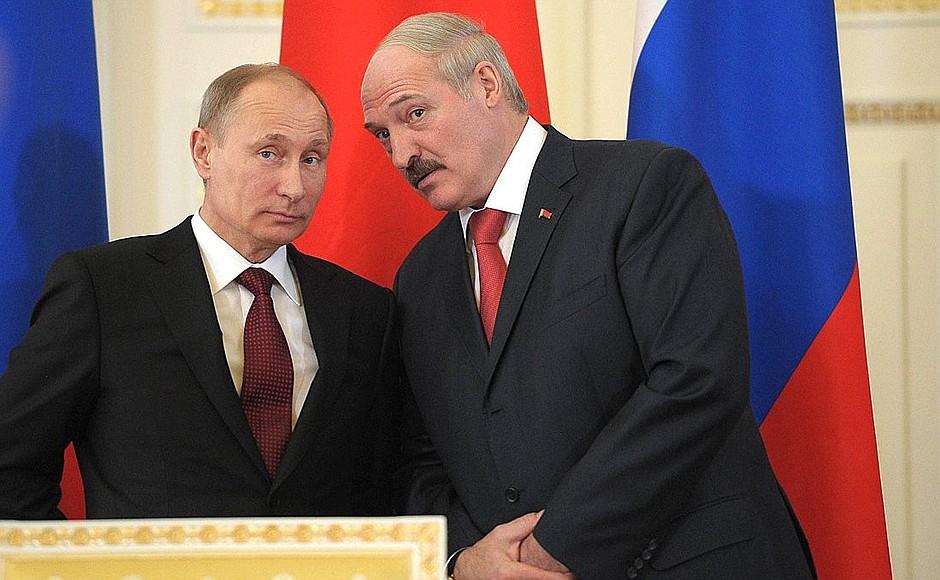 kremlin.ru
Relations between Moscow and Minsk have seriously deteriorated over the past few months. Experts and publicists offer a number of reasons that could push Russia to the attempt to annex Belarus.
According to TSN, during a meeting of the Eurasian Economic Forum in early December, President of Belarus Alexander Lukashenko went for a public dispute with his Russian counterpart Vladimir Putin over the price of gas.
In just a month, the conflict between Belarus and Russia became so serious that it could even threaten Belarusian sovereignty. The relevant statements do not come from experts or journalists, but from Lukashenko himself.
The Russian Federation has stepped up its activities under the Treaty on the Establishment of the Union State of 1999, according to which the Russian Federation and Belarus are to create a Confederation with a single political, economic, military, customs, monetary, judicial, cultural and other systems. In fact, this means merging the two countries into one state. Almost all Belarusian and Russian political experts are confident the Kremlin has begun active work to prepare for the actual seizure of Belarus.
Analysts and political consultants offer a number of reasons why Russia has intensified these efforts today.
1. Increasing pressure on Ukraine
Ukraine and Belarus share a 975-km border. Since the beginning of Russian aggression in 2014, the Ukrainian-Russian border has been a soft spot of the Ukrainian Armed Forces.
President of Belarus Alexander Lukashenko has repeatedly assured that Russian troops will never invade Ukraine from his territory, giving certain guarantees to this end. However, in the case of Belarus acceding [to Russia], Ukraine will face an almost 1000-km borderline, through which Russian troops can potentially be deployed.
Ukrainian experts are raising the alarm and urging the Ukrainian Defense Ministry to be ready for such a development. However, they do not believe in a full-scale invasion from the north.
Read alsoLukashenko: Belarus ready to "engage" in Donbas conflict settlement
"As for Belarus as a springboard for some large-scale offensive against Ukraine, this is not particularly convenient, because, fortunately, it's Polissia that separates us. And Polissia is not a very convenient military theater – it's forests and swamps," Ukrainian MP, coordinator of the Information Resistance OSINT group Dmytro Tymchuk wrote on Facebook.
At the same time, he emphasizes that Lukashenko's declared "friendship" with Ukraine might change at short notice due to Russian pressure.
2. Corridor to Kaliningrad and provoking NATO
The Kaliningrad region is a Russian exclave formed after WW2, surrounded by EU member states. Russia does not have a land corridor to this area, and therefore Russians living there are forced to travel by air or obtain Schengen visas to get to other parts of Russia. Although the Kaliningrad region does not share a border with Belarus, it is separated from it only by a 100km-long Suvalki corridor.
NATO considers this sector of the border of Poland and Lithuania the most vulnerable piece, since the potential seizure of the corridor by Russia will in fact cut off Latvia, Lithuania, and Estonia from other Allies, which will create comfortable conditions for Russia for creating a land corridor to Kaliningrad region, where Russia has deployed strategic nuclear weapons, and which could be used as a springboard to seize the Baltic States.
According to experts, the presence of a buffer zone – Belarus, Ukraine, and the Caucasus countries – between Russia and NATO is important from the security perspective, creating a fuse to prevent even the smallest border conflicts. At the same time, Russia is committed to constantly putting pressure on NATO.
"Moscow's goal is to turn Belarus into a "gray zone," the territory of instability, a source of risks and threats for neighboring countries (Lithuania, Latvia, Ukraine, and Poland) and at the same time – into the Russian military-strategic base in confrontation with the EU and NATO" says director of the Minsk Center for Strategic and Foreign Policy Studies Arseny Sivitsky.
Read alsoWill Russia be able to swallow Belarus
The seizure of Belarus could be a strategic step for the Kremlin in their geopolitical confrontation with NATO Allies and possible plans for further expansion into other countries.
3. Putin trying to retain top office
In 2024, presidential elections will be held in Russia. At that time, President Putin will be 72 and, according to the constitution, he will not have the right to run for a third term. Therefore, the Kremlin is now actively working on how to legally allow Putin to remain in power after 2024. One of such methods is the creation of the Union State, which he will head.
"The agreement, which was signed at the end of 1999, provides for a new Constitution and, if he wishes so, Putin could actually start from scratch, as they say. In Russia, this scenario is really being considered as an option for him to remain in power," says Belarusian journalist Denis Lavnikevich.
This option is most of most concern to the West, as evidenced by reports in leading Western media. Belarus is constantly criticized for Lukashenko's authoritarian regime, but Putin's regime is even worse for them.
4. Territorial expansion
One of the most trivial reasons, but not the least, is simply gaining new territories. From a geopolitical point of view, they are important for advancing Russian interests in Europe and putting pressure on the EU.
At the same time, the Kremlin might as well try to use territorial expansion to boost Putin's ratings, as it already happened with Russia attacking Ukraine in 2014. Now, due to pension reform and economic and social issues piling up, public support of the Russian president is steadily declining.
Read alsoLukashenko: Rumors of Belarus-Russia unification far-fetched
A number of well-known industrial and agricultural centers of Belarus, as well as almost 10 million of its population, are of interest to Russia.
5. Blackmailing Minsk
In fact, aggressive statements and serious efforts could aim at maintaining grip on Belarus, which Russia feels is gradually shifting away from its orbit. Recently, the Belarusian authorities began to intensify relations with the EU and the USA.
"Minsk is really firmly aware that, if they fail to establish stable relations with a few world leaders, in particular with those of (the European Union) and the United States, amid the ongoing political upheavals, Russians could deprive us of sovereignty," head of the Belarusian analytical center Minsk Dialogue Yevgeny Preygerman told Foreign Policy.
In addition, China is also investing huge amounts in Belarus, creating joint projects and providing soft loans.
The Russian Federation has already deployed its huge propaganda machine, aimed at spreading public threats and discrediting Belarus. In particular, Russian TV channels are already talking about Belarusian "Russophobes" and "protection of the Russian-speaking population," just like they did back in 2014.