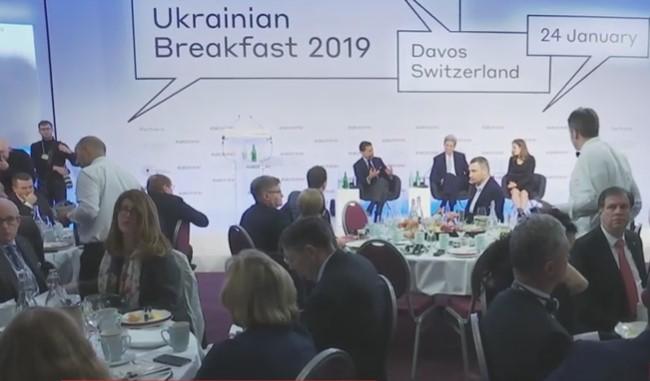 TSN video snap
Poroshenko compared Tymoshenko with Venezuela leader Nicolas Maduro, while she reminded him of public promises he failed to fulfill.
According to the report, the presidential candidates staged a real "battle" at the event which Poroshenko paid a visit to closer to its end, making a few sharp jokes, mocking someone's promise to cut the gas prices in half, without naming Tymoshenko directly, but definitely hinting at her with his rhetoric, as reported by TSN.
"For those who want to understand what it means to declare fixed prices below market level for certain goods for people, that's the same thing that Chavez and Maduro do in Caracas and Venezuela. The current standard of living of these people can be easily seen on television, especially this night, when millions of Venezuelans came out to say 'no' to Maduro, say 'no' to populism, say 'no' to irresponsible politicians," Poroshenko said in his address.
Read alsoPoroshenko warns against threats of populism amid Russian meddling
Tymoshenko delivered a response just as sharp.
She replied on the sidelines of the forum: "I think he should compare himself with Maduro, because when he campaigned to become president, he promised thousands of hryvnias in wages to our soldiers if they signed a contract, to complete the Anti-Terrorist Operation within two hours. He promised health care insurance to every military, he promised zero tolerance for corruption, promised to sell his business. I think he should not criticize others here at the podium, but report on what he himself did."
Foreign guests, who were watching the "battle" of politicians, kept a restrained calm and tried not to take sides.
Former NATO Secretary-General Anders Fogh Rasmussen emphasized he had not supported Tymoshenko in her presidential bid, and his video address at the Batkivshchyna Congress was misinterpreted because he made a greeting regarding reform, speaking of the entire Ukraine, not a certain presidential candidate.