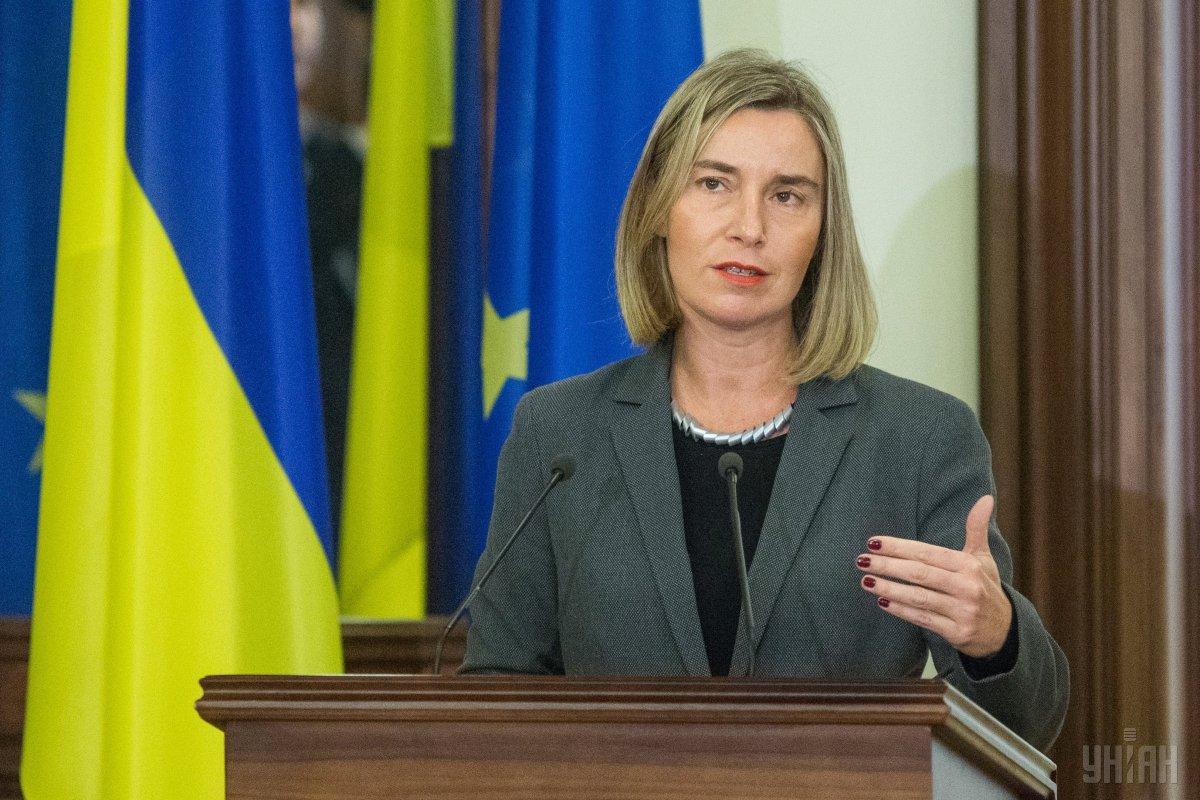 Photo from UNIAN
High Representative of the EU for Foreign Affairs and Security Policy Federica Mogherini has refused to comment on Ukrainian President Petro Poroshenko's words that Ukraine will apply for EU membership in 2024.
Read alsoUkraine to apply for EU membership in 2024 – Poroshenko
"I would not comment on the specific words or statements that have been made but I can tell you this: as the Minister [Teodor Meleşcanu] said, if you look back ten years ago or if you even look back five years, especially for Ukraine, five years ago was a quite dramatic time; I remember it very well. We have achieved so much with all of our Eastern partners, that, again, looking back even a few years' time, not to mention ten [years], some things would have been completely impossible to believe at the time," she said at a joint press conference with Foreign Affairs Minister of Romania Teodor Meleșcanu, following the informal meeting of the EU Foreign Affairs Ministers in Bucharest on January 31, 2019.
"In particular with Ukraine, but also with Moldova and Georgia, we have managed to achieve the three main objectives that we had decided to work upon with those three partners. The trade agreement that is the most advanced one we could put in place, the Association Agreement, that give us a framework for regular constant exchanges and cooperation on a political level on all different sectors, and that is moving forward and supporting all reforms that in this countries are asked for by the citizens and are beneficial for their society, their economy, the rule of law. And the visa liberalisation that has always been on top of the agenda for those three countries, and that I believe has brought an immediate and tangible change for the citizens of Ukraine but also of Georgia and Moldova," Mogherini said.
"Again, if you look back for instance at the beginning of my mandate, some four years and a half ago, all of these objectives would have seemed completely out of reach. I think we have something to celebrate also thanks to the determination of the Member States and of our partners in managing to achieve something that was impossible to even dream of at that time."
"I would not comment about what would happen as of 2024, but we have closer targets that are at reach, we have agenda of 20 deliverables for 2020 – 2020 is one year from now – and we are convinced both, on the Member States and on the Commission side, that these changes that are doable, that are at reach and that are extremely concrete from the point of view of how they might impact the life of the citizens, both of their countries but also of ours, are something on which, in a very pragmatic and concrete way, we can work together and achieve excellent results," the official said.