Common position of 'Normandy Four is ceasefire should take place on entire contact line
The ceasefire in Ukraine should take place along the entire line of contact between the two sides, including in the town of Debaltseve, the "Normandy Four" leaders of Ukraine, Russia, Germany and France have said.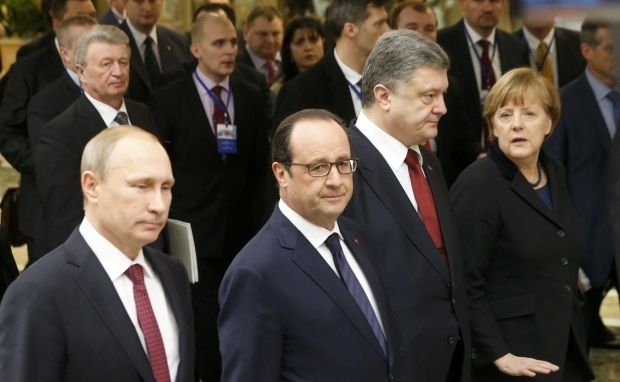 REUTERS
Ukrainian President Petro Poroshenko said agreement was reached on this during a telephone conference on Sunday between the four leaders.
Poroshenko said the withdrawal of military equipment and heavy weapons requires full and unconditional ceasefire. One of the leaders of the militant groups who have seized control of parts of eastern Ukraine, Oleksandr Zakharchenko, said that his group would continue to attack Debaltseve, and that the ceasefire agreement did not include this town.
Poroshenko, German Chancellor Angela Merkel, French President Francois Hollande and Russian President Vladimir Putin said there was a need to create conditions for work of the OSCE Special Monitoring Mission in Debaltseve in Donetsk region so that it can monitor and verify the ceasefire, according to a statement from Poroshenko's press service.
The OSCE on Sunday said it had been denied access to Debaltseve by the militants, who told their monitors it was not safe to enter the town. The militants continued their attacks on the town on Monday, more than a day after the ceasefire in Ukraine was supposed to have come into effect.
The parties agreed to continue negotiations in the "Normandy format" on February 16.
If you see a spelling error on our site, select it and press Ctrl+Enter