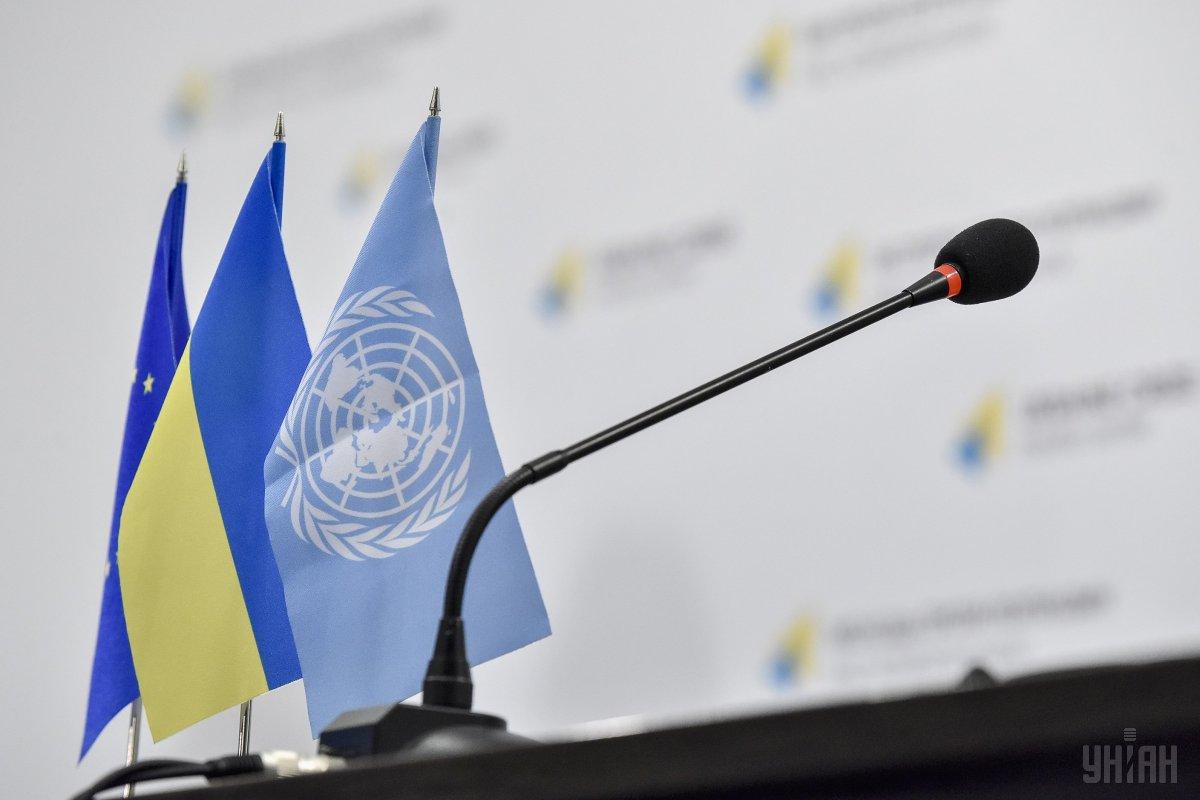 Photo from UNIAN
Russia's withdrawal of its military troops from eastern Ukraine and Crimea is the only acceptable outcome and the only one to be accepted, Acting Permanent Representative of the U.S. to the United Nations, Ambassador Jonathan Cohen told a UN Security Council briefing on the situation on Ukraine convened by Russia on Tuesday, Feb 12.
Also, the envoy noted the conflict's humanitarian aspect, according to the Voice of America.
"[W]e are coming to the fifth year anniversary of the start of Russia's aggression against Ukraine that has left more than 10,400 dead and 1.6 million displaced, as well as 3.5 million more in dire need of assistance," he said.
The Ambassador called "ironic" the fact that it was Russia who called the meeting to discuss the Minsk agreements "given that Russia has clearly failed to honor and implement" them.
"Russia continues to arm, train, lead, and fight alongside its proxy forces in eastern Ukraine, in direct contravention of its commitments under the Minsk agreements, including establishing an immediate and comprehensive ceasefire," he noted.
Read alsoYelchenko: 35,000 troops in Russia-occupied Donbas supported by over 2,100 members of Russian military
Cohen said the U.S. welcomes the Ukrainian government's "continued commitment to a peaceful resolution of the conflict and full implementation of the Minsk agreements."
"Ukraine has demonstrated this commitment through steps including by extending the law on the special status for Russia-controlled areas of eastern Ukraine," the U.S. permanent representative said, adding that, for its part, Moscow "disingenuously argues for a protection force that would use expensive international forces to cement the status quo and end up protecting Russia's proxies."
"Our Donbas-related sanctions will remain in place until Russia fully implements the Minsk agreements. Our Crimea related sanctions will also continue until Russia returns the peninsula to Ukrainian control," he told the briefing.
Read alsoMFA Ukraine on fourth anniversary of "Minsk-2": Ukraine positions in Donbas shelled daily
"We do not, and will not, recognize the Kremlin's purported annexation of Crimea," the diplomat said. "We will never accept anything less than the full restoration of Ukraine's control over its own territory, whether in eastern Ukraine or Crimea, including its territorial waters."
Other representatives of international community also noted the illegal nature of the annexation of Crimea by Russia. A number of countries condemned Russian aggression in Ukraine, while ahead of the meeting, eight EU countries, including France, Germany, Poland, Belgium and the UK, issued a statement in support of Ukraine's independence and territorial integrity within internationally recognized borders.
The representative of Russia, who initiated the meeting, in turn, rejected the accusations against his country and said that it was Ukraine who is ignoring and sabotaging the Minsk agreements, and accused the Western countries of covering up Ukraine's actions.