EU puts new sanctions into force against Russia
The EU has included on its travel blacklist three senior officials of the Ministry of Defense of Russia, singer and State Duma MP Iosif Kobzon, and a number of militants from the Donetsk and Luhansk People's Republics, who are also subjected to the freezing of their bank accounts.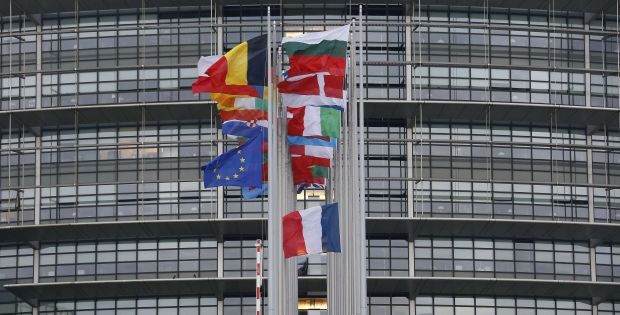 REUTERS
The corresponding list was published in the Official Journal of the European Union on Monday, according to an UNIAN correspondent in Brussels.
In particular, the list included Deputy Defense Minister Anatoliy Antonov, the First Deputy Defense Minister Arkadiy Bakhin, head of the Main Operations Directorate and Deputy Chief of the General Staff of the Armed Forces of the Russian Federation Andrey Kartapolov.
The list also includes MPs of the State Duma Iosif Kobzon and Valeriy Rashkin.
The rest of the list is made up of militants and members of the self-proclaimed Donetsk and Luhansk People's Republics. In particular, the list includes: the commander of the first Cossack regiment Pavel Dremov, commander of the Russian association Aleksei Milchakov, commander of the Sparta battalion Arseniy Pavlov, known as Motorola, and the commander of the Somali battalion, Mikhail Tolstoy.
The list also consisted of the so-called deputy of the DPR defense minister, Eduard Basurin, the so-called Minister of Justice of the LPR Oleksandr Shubin, the so-called deputy head of the Council of Ministers of the LPR Serhiy Lytvyn, the so-called commander of the people's militia of the LPR Serhiy Ihnatov, the so-called Minister of Justice of the DPR Ekateryna Filippova, the so-called minister of the budget of the DPR Oleksandr Timofeiev, the so-called minister of the budget of the LPR Yevhen Manuilov, the so-called Minister of Communications of the DPR Viktor Yatsenko, the so-called Minister of Economic Development and Trade of the LPR Olha Besedina, and the so-called Prosecutor General of the LPR Zaur Ismailov.
The list of entities that will become subject to the sanctions, includes the following military units: the Cossack National Guard, the Sparta battalion, the Somali battalion, the Zaria battalion, the Prizrak battalion, the Oplot battalion, the Kalmius battalion, the Smert battalion, and the Novorossia movement.
As UNIAN reported earlier, on January 29 Foreign Ministers of the EU instructed to expand sanctions on new individuals and legal entities because of their involvement in the destabilization of the situation in Ukraine.
At the same meeting it was decided to extend the existing sanctions, introduced in March 2014, to September.
The list was pre-approved by the permanent representatives of the EU in Brussels on February 5.
On February 9, the EU Council on Foreign Affairs expanded the sanctions list of persons.
However, the Russian Federation, in spite of a large amount of photographic and video evidence to the contrary, continues to claim it is not involved in the Donbas and describes the conflict as a civil war.
If you see a spelling error on our site, select it and press Ctrl+Enter