Photo from UNIAN
The Sluha Narodu (Servant of the People) Party led by comedy actor, public figure Volodymyr Zelensky has taken the lead in a poll ahead of the 2019 parliamentary elections.
So, if parliamentary elections were to be held in early February, the Sluha Narodu Party would enjoy the greatest support among voters who have decided who to vote for (24.6%), according to a survey conducted by the Kyiv International Institute of Sociology (KIIS).
Read alsoZelensky takes the lead in poll ahead of 2019 presidential vote
The Batkivshchyna Party led by Yulia Tymoshenko would have scored 18% of votes, the Bloc of Petro Poroshenko 14.2%, the Opposition Platform – Za Zhyttya (For Life) Party 10.3%, Oleh Liashko's Radical Party 6.3%, and Anatoliy Hrytsenko's Hromadianska Pozytsia (Civic Position) Party 6.2%.
Other political forces could gain less than 4% of the vote.
Among all survey participants, 13.8% of voters are ready to back the Sluha Narodu Party, 10.1% are ready to support the Batkivshchyna Party, 7.9% the Bloc of Petro Poroshenko, and 5.8% the Opposition Platform – Za Zhyttya (For Life) Party.
The Radical and the Hromadianska Pozytsia parties have 3.5% of the backing, while the support for other parties is much less.
The poll was conducted from January 31 to February 10 through personal formalized (face-to-face) interviews. The study involved 2,007 respondents aged 18 and older in 134 settlements across Ukraine (except for the temporarily occupied territories in Luhansk and Donetsk regions, and the Autonomous Republic of Crimea). The margin of error does not exceed 3.3%.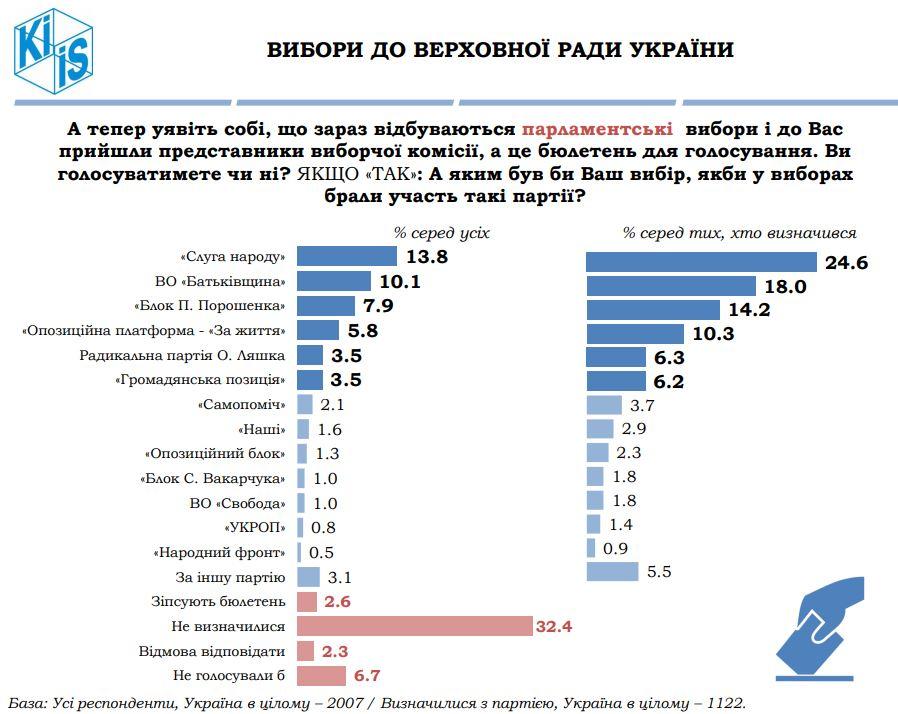 kiis