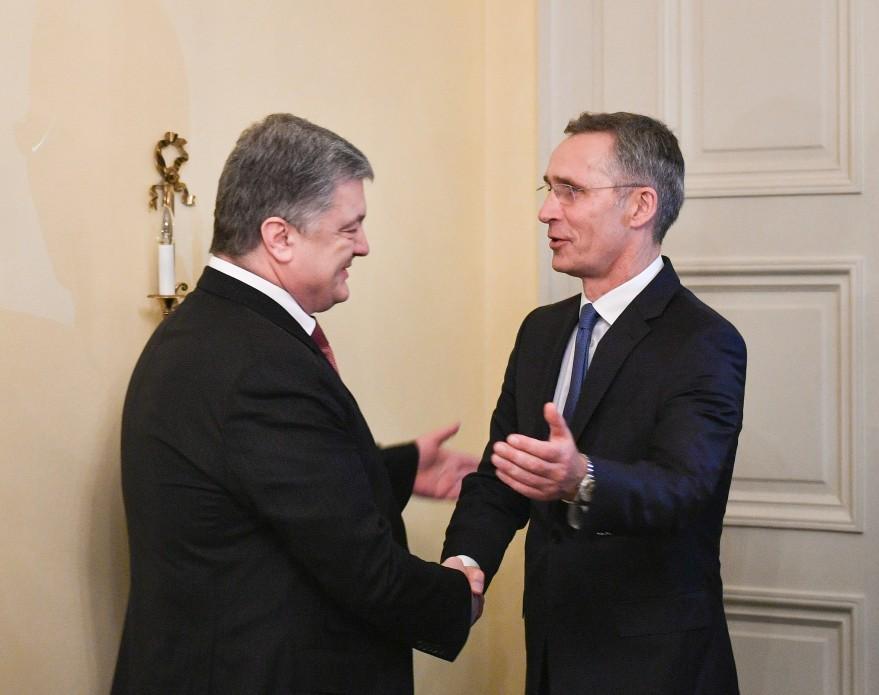 president.gov.ua
President of Ukraine Petro Poroshenko on Friday met with NATO Secretary General Jens Stoltenberg in Munich, thanking him for the Alliance's consolidated support of Ukraine's sovereignty and territorial integrity, as well as for a strong condemnation of Russia's aggressive actions.
Petro Poroshenko highly appreciated NATO's large-scale practical assistance in reforming the security and defense sector of Ukraine in line with NATO standards. Significant progress of the Ukrainian side on this path was noted.
The president underscored the immutability of Ukraine's path toward Euro-Atlantic integration, which is now consolidated in the Constitution.
The secretary general commended the adoption of this decision and confirmed that the Alliance continued to adhere to the open door policy.
Read alsoNATO seeks to expand presence in Black Sea area – Stoltenberg
The parties separately discussed the ways of strengthening Ukraine's cooperation with the Alliance in response to the threats in the Black Sea and the Sea of Azov, in particular with a view to increasing capabilities of the Ukrainian Navy.
In this context, the parties noted the significance of the anticipated visit to Ukraine of the North Atlantic Council of NATO, which should also demonstrate the continued support of the Alliance for Ukraine in countering Russia's aggression.
NATO Secretary General Jens Stoltenberg informed Poroshenko on the outcome of his earlier meeting with the Russian foreign minister where the NATO chief, in particular, urged Russia to release Ukrainian sailors.